About Martin & Robert Goetzl
A resident of Lyndhurst, NJ, Robert Goetzl's artwork can be seen throughout the Martin Guitar factory and museum. Paintings by Robert are featured on the tops of guitar models including the 00L Earth Guitar, DX175th Anniversary, DX Woodstock and the D-18 Robert Goetzl. His concept drawings have been the basis for guitar designs including serial number 2,000,000, the Watch Guitar. Prior to Robert's involvement at Martin Guitar, he worked as a freelance artist and illustrated children's books.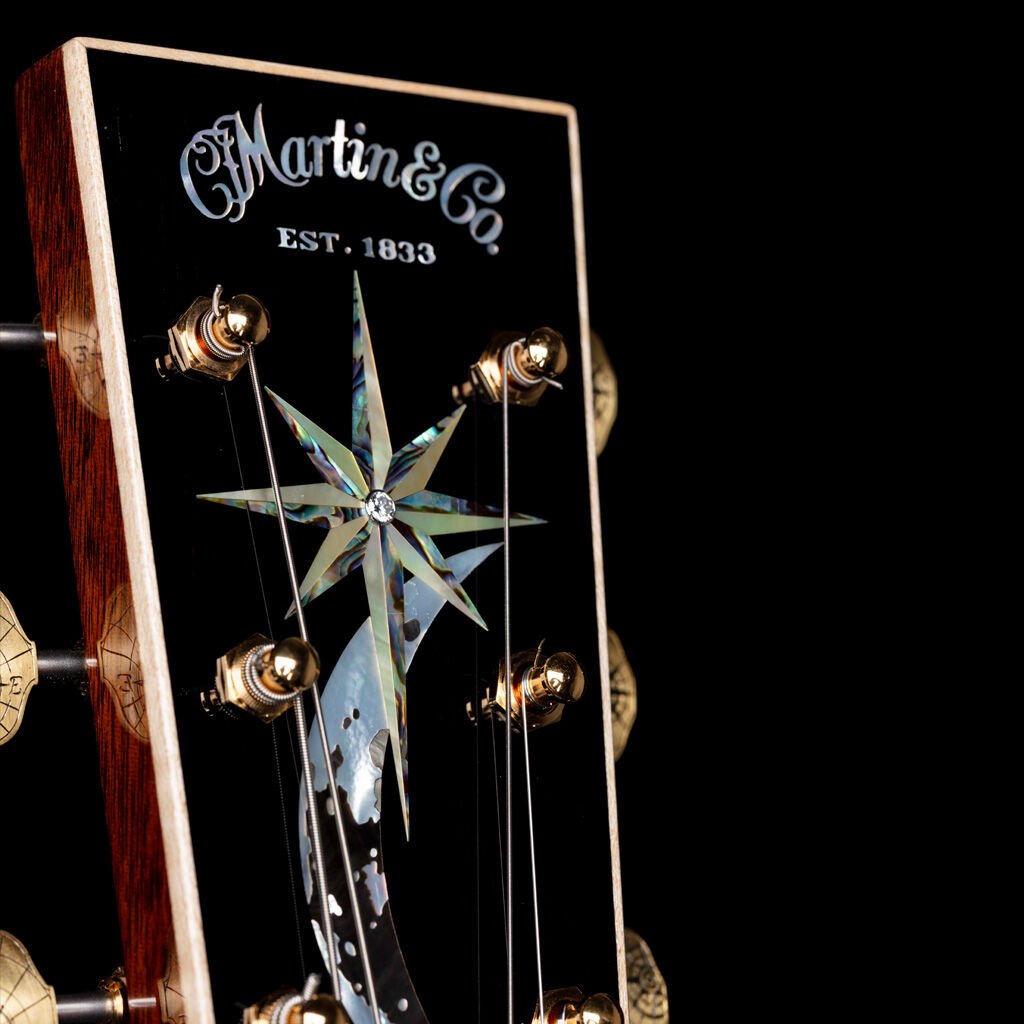 D-Robert Goetzl 2 (Eagle) and D-Robert Goetzl 5 (White Tiger)
These two custom one-of-a-kind art guitars were created to honor treasured species from the animal kingdom and feature original artwork by artist Robert Goetzl hand-painted on the soundboard. One model features an American Eagle, and the other features a White Tiger. The D-Robert Goetzl models feature full-gloss finished East Indian rosewood back and sides with a Sitka spruce top and forward-shifted scalloped X-bracing for a full and balanced sound. They also include an ebony fingerboard and bridge and a stylized script logo on the headstock. Each model includes a paper label signed by the artist.
D-Robert Goetzl 2: Eagle
Specifications – Overview
Body size: D-14 Fret
Construction: Dovetail Neck Joint
Bracing Pattern: Forward Shifted X
Brace Shape: Scalloped
Top Material: Sitka Spruce
Back Material: East Indian Rosewood
Side Material: East Indian Rosewood
Electronics: None
Finish Top: Gloss
Back and Side Finish: Gloss
Scale Length: 25.4"
Fingerboard Width at Nut: 1 3/4"
Neck Shape: Modified Low Oval
Neck Taper: High Performance Taper
D-Robert Goetzl 5: White Tiger
Specifications – Overview
Body size: D-14 Fret
Construction: Dovetail Neck Joint
Bracing Pattern: Forward Shifted X
Brace Shape: Scalloped
Top Material: Sitka Spruce
Back Material: East Indian Rosewood
Side Material: East Indian Rosewood
Electronics: None
Finish Top: Gloss
Back and Side Finish: Gloss
Scale Length: 25.4"
Fingerboard Width at Nut: 1 3/4"
Neck Shape: Modified Low Oval
Neck Taper: High Performance Taper