From the Factory | September 27, 2023
Travel-Sized Guitar? Yes Please.
Why a Martin LX or Junior acoustic may be your perfect musical companion.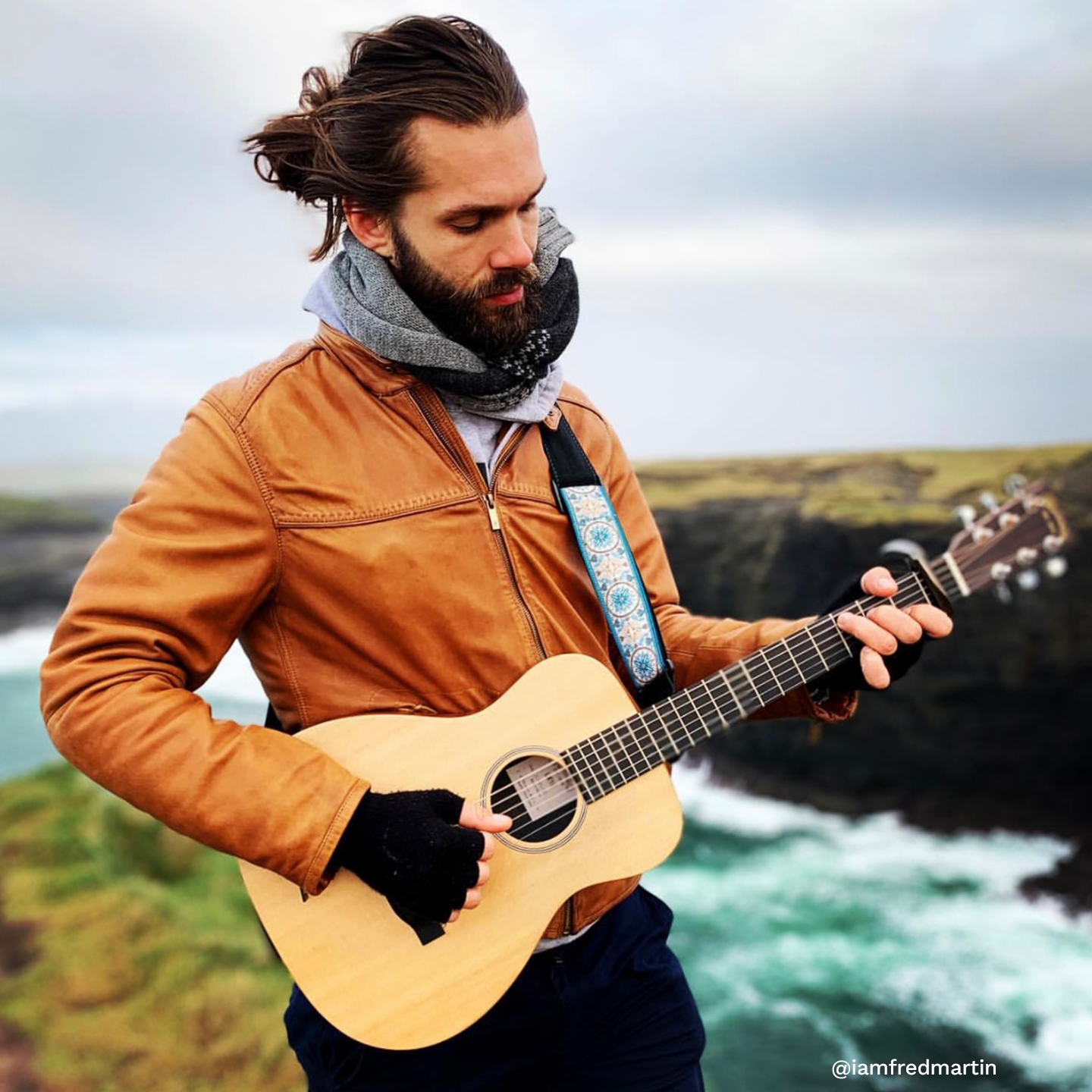 Hi friends. We know that shopping for your first guitar can be a daunting task. Heck, even shopping for your fifth guitar isn't a walk in the park unless you know exactly what you want. There are so many options out there and you may find yourself experiencing what we like to call "option paralysis". Well, today we're going to give you the scoop on some of our budget-friendly travel guitars so you can understand how they differ from our full-sized models and help you decide if a smaller-bodied instrument is right for you.
How can you benefit from a travel-sized guitar?
Buying a small body or travel-sized acoustic guitar can offer several benefits for both beginner guitar players and seasoned musicians who are looking for a portable option to take on the road. Here are some advantages to consider:
Portability: One of the most significant benefits of a small body or travel-sized acoustic guitar is its portability. These guitars are designed to be compact and lightweight, making them easy to carry around. This is especially appealing for musicians who frequently travel or want to play music outdoors.
Ease of Travel: Whether you're a beginner or a seasoned player, having a compact guitar makes traveling much more convenient. You won't have to worry about checking in an oversized instrument or dealing with the challenges of transporting a full-sized guitar.
Playability: While small body guitars might have a slightly different feel compared to their full-sized counterparts, many are designed with comfort in mind. The narrower neck and smaller body can be more comfortable for players with smaller hands, making it easier to navigate chords and frets.
Intimate Sound: Travel-sized guitars tend to have a more intimate and focused sound due to their smaller size. This can be appealing for solo performances or practicing in quieter environments, as the sound is less likely to overwhelm the space.
Practice on the Go: For beginners, having a travel-sized guitar means you can practice your playing skills wherever you go. It's an excellent way to consistently work on your technique and keep your musical journey on track, even when you're away from home.
Songwriting and Inspiration: Seasoned guitar players often find that having a small body guitar handy can lead to creative inspiration. Whether you're on the road, in a park, or just sitting around a campfire, the convenience of a travel-sized guitar encourages impromptu jam sessions and songwriting sessions.
Backup Option: For experienced musicians who usually play larger guitars, having a small body guitar as a backup option can be advantageous. If your main guitar experiences issues during a gig or a recording session, having a reliable travel-sized guitar can save the day.
Affordability: Travel-sized guitars often come at a lower price point than full-sized models, which can be appealing for beginners who are just starting their musical journey. It's a more budget-friendly way to enter the world of playing the guitar.
Martin offers two small-bodied options. Our LX Series models and our Junior Series models.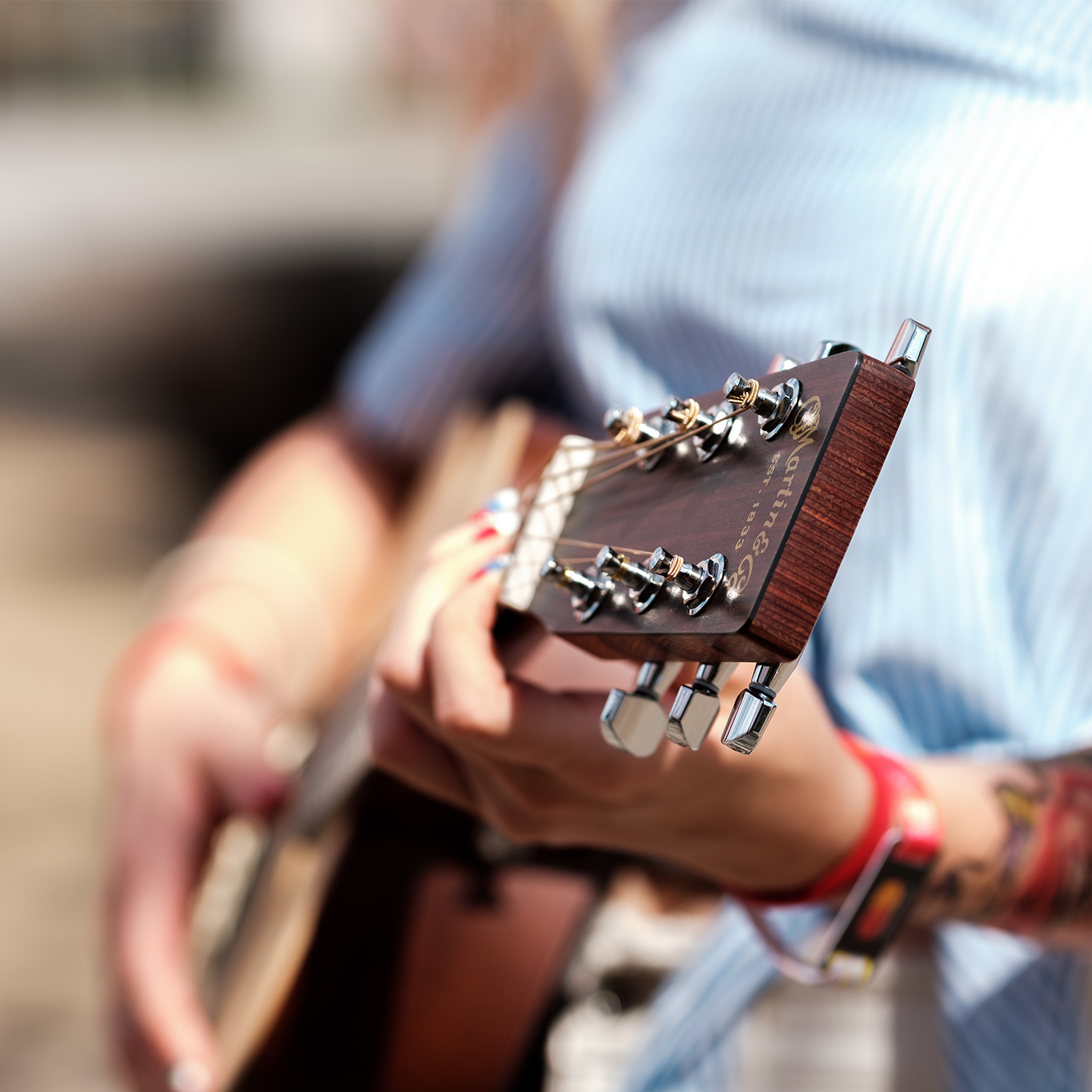 What is an LX Series Model?
The LX or "Little Martin" is the smallest guitar we make but it's big on tone, quality, and versatility. It is available in a variety of styles, such as the LX1R which features a solid spruce top for warmth and projection, paired with stylish rosewood pattern high-pressure laminate (HPL). Every LX comes with a soft gig bag for easy transport so you can take your music anywhere. The Little Martin is ideal for travel but also makes a great student guitar.
Martin's LX-sized guitars are often praised for their surprisingly rich and balanced sound given their compact size. They offer a focused and bright tone with good projection, making them suitable for both practice and casual performances. Due to their smaller dimensions, they're also popular among beginners and young players who find larger guitars less comfortable to handle.
LX models feature a 23" scale length and a modified 0-14 fret body shape, which contributes to its distinctive sound and playability.
When did Martin first offer the LX size in their lineup?
The history of Martin's LX-sized guitars dates back to the early 2000s. The Little Martin series was introduced to provide players with a more compact and portable option without sacrificing the renowned Martin tone and quality. These guitars are known for their shorter scale length and smaller body size, making them comfortable to play for people of all ages and sizes.
The LX1 model, commonly referred to as the "Little Martin," was one of the initial offerings in this series. It features a solid Sitka spruce top and HPL mahogany patterned back and sides.
Over the years, the Little Martin series expanded to include various models with different tonewood combinations, finishes, and electronics options. For instance, the LX1R features a solid spruce top with rosewood patterned HPL back and sides and the LXK2 features HPL top, back, and sides in a koa pattern.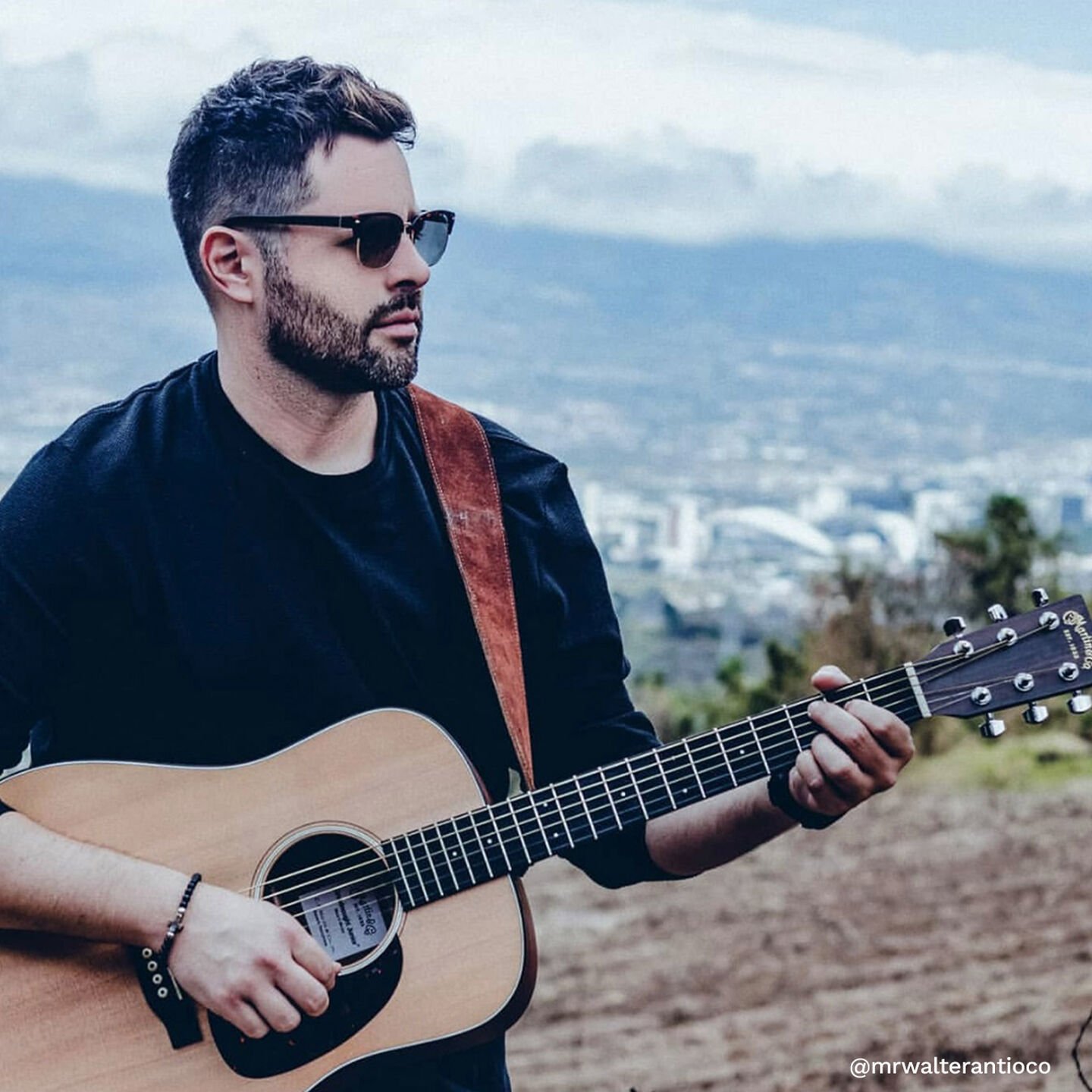 What is a Junior Series Model?
The Junior Series is designed for players looking for big sound in a slightly smaller body than its full-size counterparts. Available in a variety of tonewoods and body styles, such as the auditorium style 000Jr-10 which features sapele back and sides for warm tones with a strong midrange response. It includes a spruce top for added warmth and projection and a hand-rubbed neck with a high-performance taper for ease of playability. Junior models also sport a soft back edge to provide maximum comfort while playing. Every Junior includes a soft gig bag for easy transport so you can take your music anywhere.
When did Martin add the Junior Series to their product line?
Martin introduced the first Junior series model in 2016 and have since grown their offering to eight unique models, including two Junior-sized bass guitars.
The popularity of junior-sized guitars has been influenced by various factors, including the rise of travel-friendly instruments, the demand for more comfortable playing options, and the interest from younger and beginner players.
What is the size difference between an LX, a Junior, and a full size acoustic?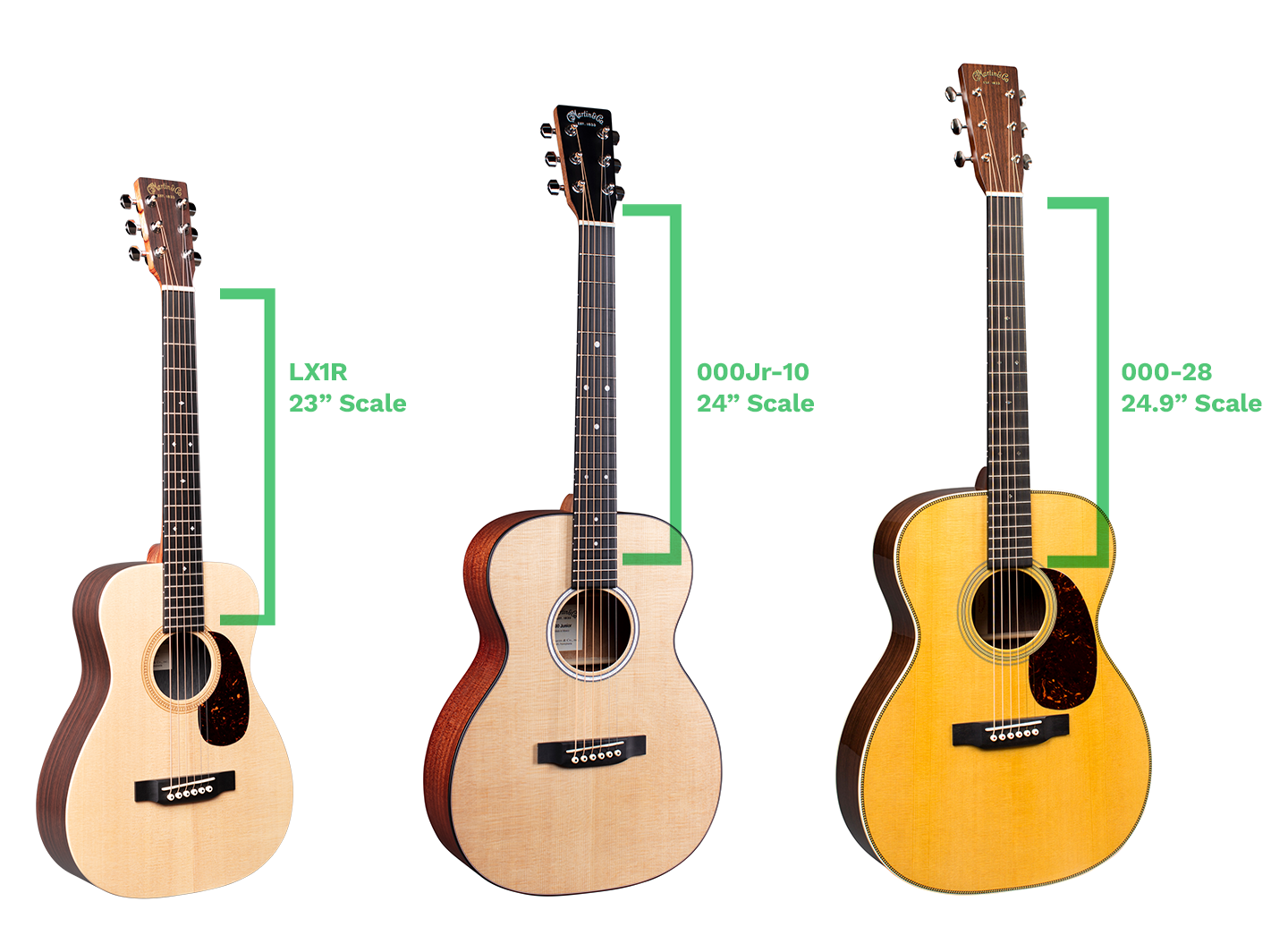 The LX and Junior models are all 14-fret instruments, but they both have a shorter scale length than a full-sized guitar. The LX models have a 23" scale length and the Junior models have a 24" scale length. That may not seem like much of a difference, but the shorter scale length does provide an easier playing experience, especially when you're first starting to learn to play scales and form chords. The body itself is also scaled down to make them more comfortable to hold against your body and to make them more portable for travel.
Plug it in? You bet!
While some Junior models come with electronics installed, you can choose to add electronics to any LX or Junior series model. Electronics will cost a little more, but the investment is worth it if you plan to plug into an amp to play onstage or record.
Let's talk about the price.
You can snag an LX model for as little as $399 and a Junior model for as little as $499.