C.F. Martin Receives Preferred by Nature Sustainability Framework Certification
The first to achieve this certification in the U.S.
Lehigh Valley, PA
August 17, 2023
C.F. Martin & Co. announced today that they have officially achieved Preferred by Nature Sustainability Framework certification for the Martin OM Biosphere guitar, making the company the first to achieve this certification in the U.S., and only the second worldwide.

The OM Biosphere™ was designed to show Martin's support for the preservation and replenishment of coral reefs, which are some of the most diverse and valuable ecosystems on earth. The model is 100% FSC® certified (license code FSC-C008304) and only the second plastic-free guitar in production today, preceded by the 00L Earth guitar. Even the gig bag is sustainable: made from hemp—a Martin first. Now with the Preferred by Nature certification, this model will be adorned with the Preferred by Nature Hummingbird Seal, a distinction that was not easily earned and one that the company is quite proud of.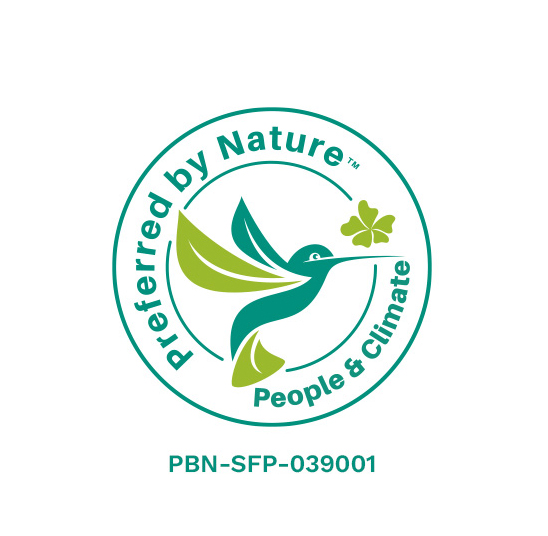 Unlike other existing labels, the Hummingbird Seal combines both sustainability aspects and climate requirements, making it a comprehensive symbol of sustainability. It signifies adherence to stringent sustainability criteria, encompassing not only compliance with principles but also requiring carbon compensation and offsetting measures to mitigate environmental impact.
"Preferred by Nature and Martin share the same vision: 'To pass on the Earth to coming generations in a good shape, we must urgently invent and adopt more sustainable ways of living, sourcing and trading.'" said Cindy McAllister, Martin Director of Intellectual Property, Community, and Government Relations. "It is with great pride and excitement that Martin has demonstrated compliance for the OM Biosphere with the Preferred by Nature Sustainability Framework Programme."
ABOUT PREFERRED BY NATURE
Preferred by Nature is a non-profit organization that supports better land management and business practices that benefit people, nature and the climate. For more than 25 years, they have worked to develop practical solutions to drive positive impacts in production landscapes and supply chains in 100+ countries. They focus on land use, primarily through forest, agriculture and climate impact commodities, and related sectors such as tourism and ecosystem restoration.
Preferred by Nature has developed the comprehensive and adaptable Sustainability Framework to guide organizations towards sustainable practices across various sectors. The Framework includes a set of principles, criteria, and indicators that address environmental, social, economic and climate aspects of operations. By adhering to the Sustainability Framework, companies demonstrate their commitment to responsible resource management, human rights, and nature conservation, contributing to a more sustainable and equitable future.