About Martin & Robert Goetzl
When Martin Guitar and Robert Goetzl come together to create instruments, the result is a collection of masterpieces that put the power of music, art, and nature in your hands.
A resident of Lyndhurst, NJ, Robert Goetzl's artwork can be seen throughout the Martin Guitar factory and museum. Paintings by Robert are featured on the tops of guitar models including the 00L Earth Guitar, DX175th Anniversary, DX Woodstock and the D-18 Robert Goetzl. His concept drawings have been the basis for guitar designs including serial number 2,000,000, the Watch Guitar. Prior to Robert's involvement at Martin Guitar, he worked as a freelance artist and illustrated children's books.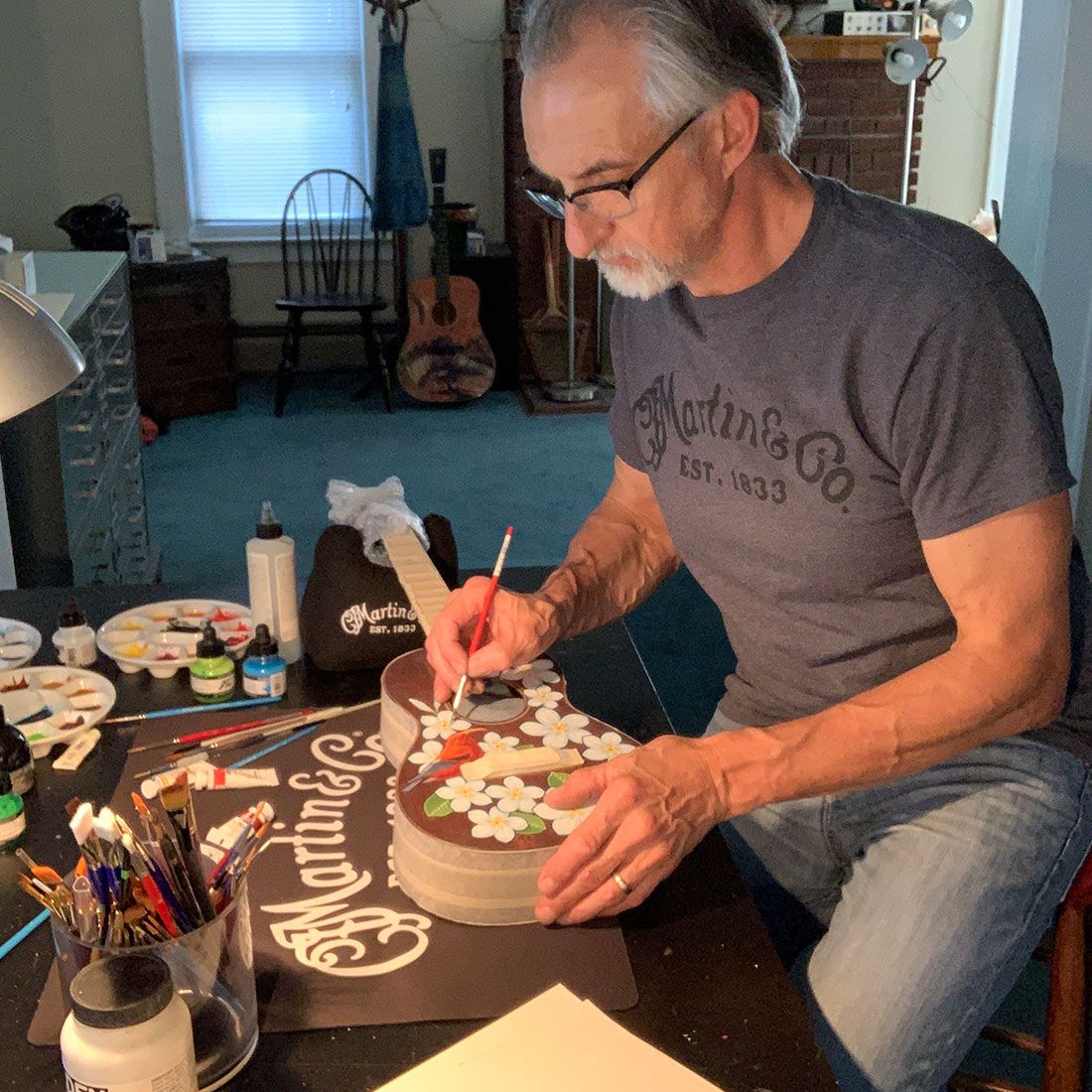 OM Biosphere™
Specifications – Overview
Body size: 000-14 Fret
Construction: Simple Dovetail Neck Joint
Bracing Pattern: Forward Shifted X
Brace Shape: Scalloped
Top Material: FSC® Certified Sitka Spruce
Back Material: Sapele
Side Material: Sapele
Electronics: None
Finish Top: Satin
Back and Side Finish: Satin
Scale Length: 25.4"
Fingerboard Width at Nut: 1 3/4"
Neck Shape: Modified Low Oval
Neck Taper: High Performance Taper
D-Robert Goetzl 6: Rabbit
Specifications – Overview
Body size: D-14 Fret
Construction: Dovetail Neck Joint
Bracing Pattern: Forward Shifted X
Brace Shape: Scalloped
Top Material: Spruce
Back Material: East Indian Rosewood
Side Material: East Indian Rosewood
Electronics: None
Finish Top: Gloss
Back and Side Finish: Gloss
Scale Length: 25.4"
Fingerboard Width at Nut: 1 3/4"
Neck Shape: Modified Low Oval
Neck Taper: High Performance Taper
Goetzl 0 Tenor Uke1
Specifications – Overview
Body size: Tenor Ukulele
Construction: Applied Dovetail Neck Joint
Bracing Pattern: Tenor Ukulele
Brace Shape: Non-Scalloped
Top Material: Sinker Mahogany
Back Material: Sinker Mahogany
Side Material: Sinker Mahogany
Electronics: None
Finish Top: Satin
Back and Side Finish: Satin
Scale Length: 17''
Fingerboard Width at Nut: 1 13/32''
Neck Shape: Tenor Ukulele
Neck Taper: Standard Taper