Country Music's Longest Running Star
Virtual Martin Museum Exhibit
C.F. Martin & Co. is proud of its continued relationship with country music. From the very beginning with some of the earliest country stars like Jimmie Rodgers and Maybelle Carter, to the most recent crop of country talent, Martin Guitar has been part of the journey. We are pleased to tell this story along with Ken Burn's production company Florentine Films in the newest addition to our world renowned museum, the Country Music's Longest Running Star exhibit.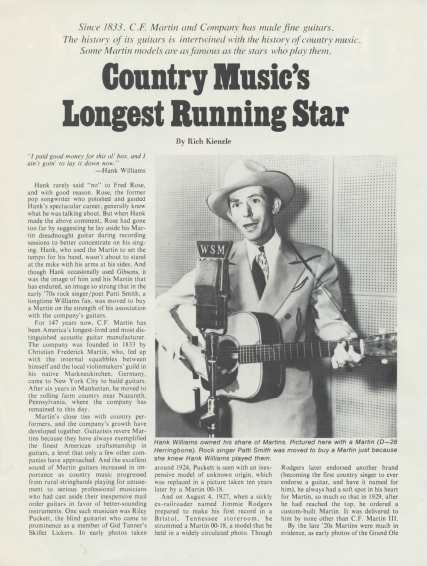 Country Music's Longest Running Star
In 1980 journalist and historian, Rich Kienzle, wrote this article for Country Music magazine about the significance of Martin Guitar in the development and the continued use of them in country music.
Download the Article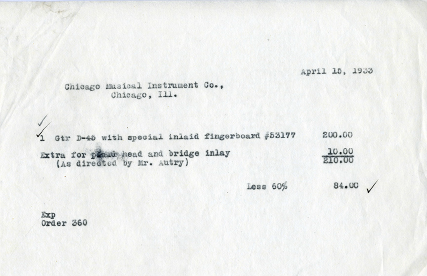 The Singing Cowboy
Gene Autry's D-45 order which was purchased through the Chicago Musical Instrument Co.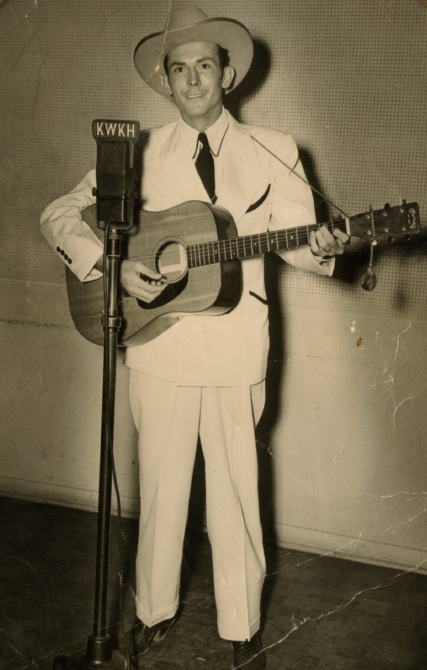 Hank Williams and his 1947 D-18
Hank gave the D-18 to his friend Curly Williams who owned it until his death in 1970. The guitar is now part of the C.F. Martin & Co. Museum collection.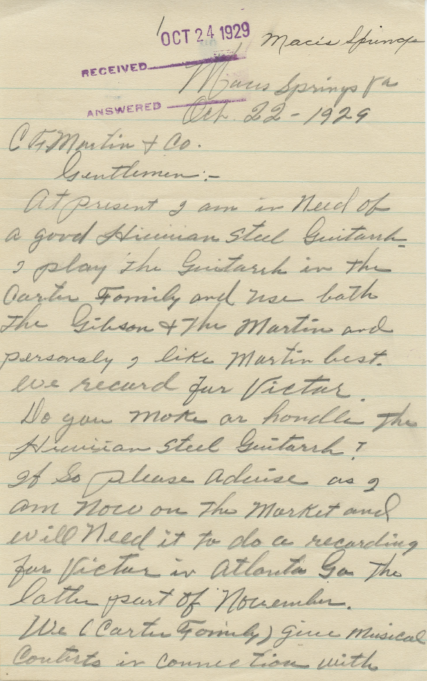 "Country Music | A Film by Ken Burns" Trailer
To learn more about Country Music | A film by Ken Burns please visit PBS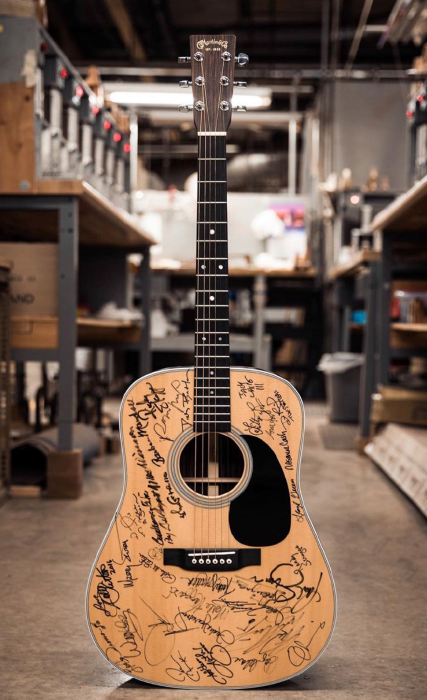 Ken Burn's Documentary
D-28 signed by the following artists who were interviewed for Ken Burn's documentary.
Barbara Mandrell, Mac Wiseman, Ronnie Milsap, Ricky Skaggs, Elvis Costello, Del Bryant, Paul Simon, Loretta Lynn, Ketch Secor, Randy Scruggs, Lloyd Green, Hank Williams, Jr., Merle Haggard, Garth Brooks, Rosanne Cash, Jack White, Kathy Mattea, Vince Gill, Trisha Yearwood, Darius Rucker, Dierks Bentley, Roy Clark, Dwight Yoakam, Emmylou Harris, Marty Stuart, Don Reid, Reba McEntire, Willie Nelson, Dolly Parton, Johnny Rodriguez, Wynonna Judd, Wynton Marsalis & Rhiannon Giddens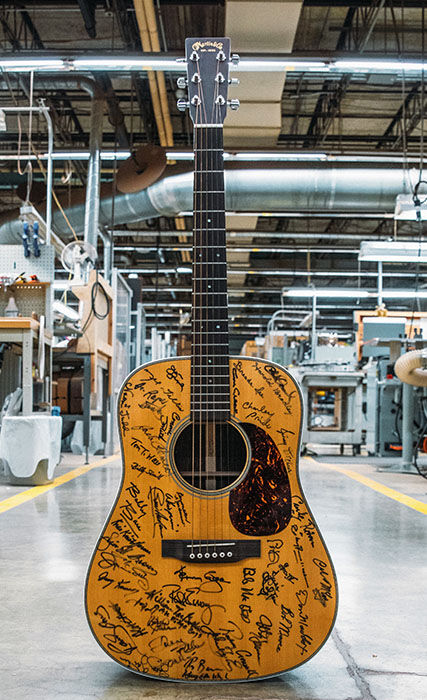 HD-16RLSH
HD-16RLSH singed by the following artists interviewed for the Ken Burn's documentary.
Little Jimmie Dickens, Harold Bradley, Brenda Lee, Mel Tillis, Ray Walker, Ralph Stanley, Cowboy Jake Clement, Charley Pride, Tom T. Hall, Billy Sherrill, Bill Anderson, Jean Shepard, Bobby Bare, Connie Smith, Kris Kristofferson, Curly Putman, Bobby Braddock, Jim Ed Brown, Charlie McCoy, Hargus "Pig" Robbins, Jeannie Seely, George Hamilton IV, Don Maddox, Bob Moore, Naomi Judd, Jessi Colter, Bob McDill, Kenny Rogers, Ralph Emery, Guy Clark, Randy Owens, Jeff Hanna, Jerry Kennedy, Rodney Crowell, John McEuen, Charlie Daniels, Duane Allen, William Lee Golden, Richard Sterban, Joe Bonsall. Ray Benson & Larry Gatlin