The Martin Museum at 510 Sycamore Street in Nazareth, PA is open to the public.
Hours: 9:00 am -4:30 pm Monday through Friday
It is free to walk through the museum, however, we encourage visitors to offer a $5 donation to the Martin Guitar Charitable Foundation.
Take a look behind the glass in the Martin Museum
Let Jason Ahner, who manages our Museum and Archives, take you on a virtual visit behind the glass to see some of the most notable instruments in our collection. You'll get to see the very first Martin Guitar ever made, and even catch a glimpse of the guitar that Kurt Cobain strummed on MTV Unplugged.
Take a Virtual Museum Tour With Chris Martin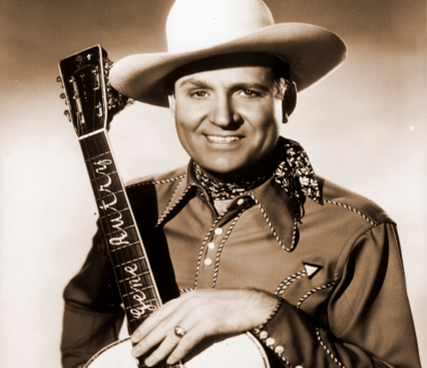 Country Music's Longest Running Star
C.F. Martin & Co. is proud of its continued relationship with country music. From the very beginning, with some of the earliest country stars like Jimmie Rodgers and Maybelle Carter, to the most recent crop of country talent, Martin Guitar has been part of the journey. We are pleased to tell this story along with Ken Burns' production company Florentine Films in the newest addition to our world renowned museum, the Country Music's Longest Running Star exhibit.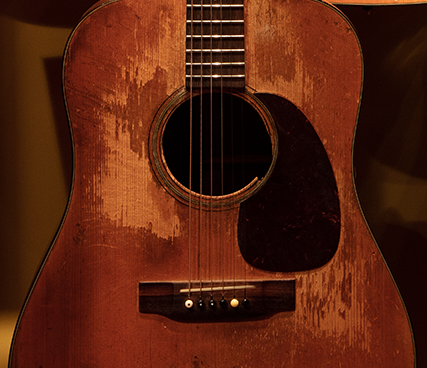 Guitars
From the earliest known Martin guitar to the world famous Dreadnought, the Martin museum has well over a hundred guitars on display. Whether you want to look at antique gut string models, an ultra-rare 1930 OM-45 De Luxe or Kurt Cobain's D-18, we have almost two centuries of the finest hand built guitars on display.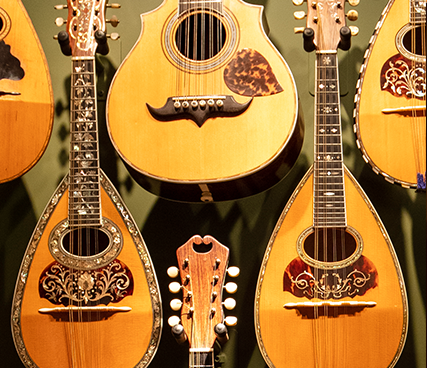 Ukuleles & Mandolins
The ukulele was a pivotal instrument in the history of C.F. Martin & Co. In the mid-1920s Martin was building five times more ukuleles than guitars so their popularity was a key component to sustaining the company during the Great Depression. Additionally, there were many firsts for Martin when they started building mandolins. They were the first instruments the company built that used steel strings, pickguards, and fingerboard inlays and to be built in batches for shop orders.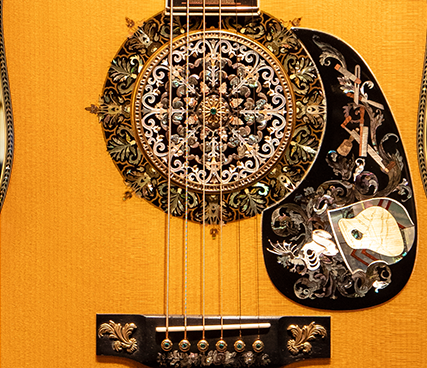 Milestone Guitars
Our museum showcases some of the most elaborately inlaid guitars in the world. From the hand inlaid Serial #1,000,000 to Serial #2,000,000 to the "Watch Guitar," you will be mesmerized by the craftsmenship and ingenuity involved in creating these showpiece instruments.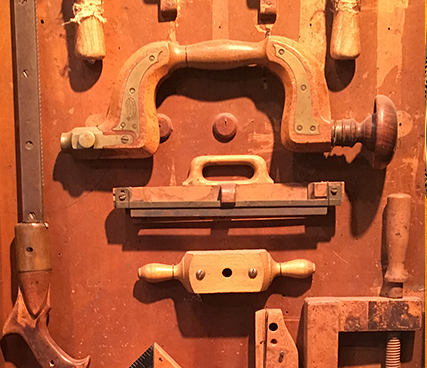 Tools & Ephemera
If you're interested in how C.F. Martin & Co. has built guitars since the beginning, we have the company's earliest hand tools on display as well as a work bench from our storied North Street Factory. Also our archives contain hundreds of thousands of items and we have many of them on display. Whether it's one of Roy Rogers Nudie suits, photos of famous Martin players or a Gene Autry signed baseball, we have unique items that are worth checking out just as much as our guitars.