History | May 25, 2022
The Oldest Surviving Maker of Ukuleles
by Thomas Walsh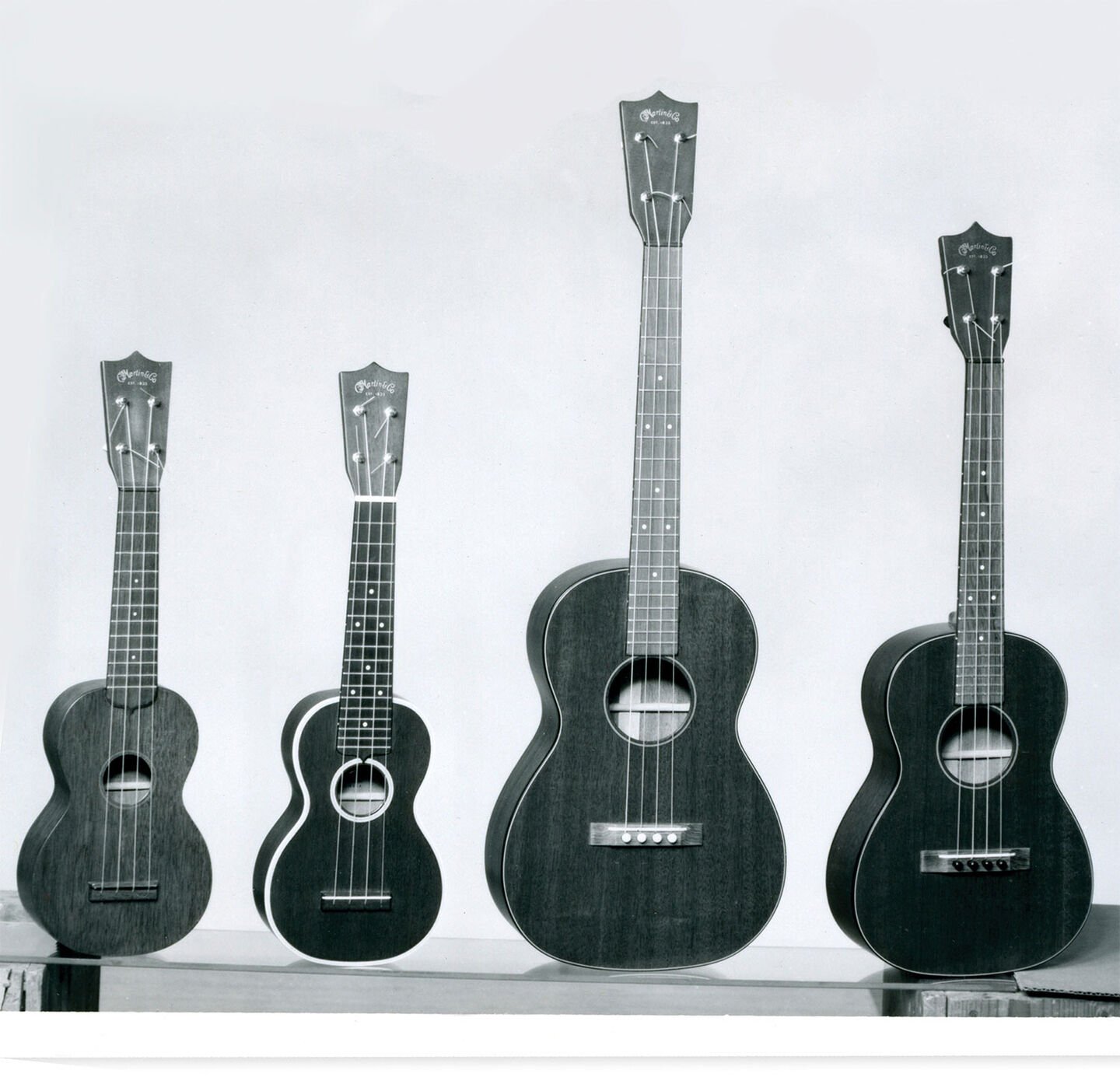 2017 marked the 100th anniversary of Martin's formal catalog introduction of ukuleles to the marketplace. Martin first prototyped ukuleles in 1906. Like Martin guitars, these had spruce tops and didn't achieve the desired "plinky" tone. Following San Francisco's Panama-Pacific International Exposition of 1915, the popularity of the ukulele was on the rise, and Martin gave it another try, this time shipping a batch of mahogany-topped ukuleles that had the perfect tone.
During 1916, Martin gradually developed Soprano Styles 1, 2 and 3, and by the time Martin's first ukulele catalog appeared in 1917, Frank Henry Martin boldly claimed that the Style 3 was "superior to original Hawaiian instruments in quality and volume of tone."
In the years that followed, Martin came to define and extend ukulele design by adding larger Concert, Tenor, Taropatch, Tiple and Baritone configurations, many of which were offered with genuine Hawaiian koa tonewood. Join us in celebrating these joyous little cousins of the guitar!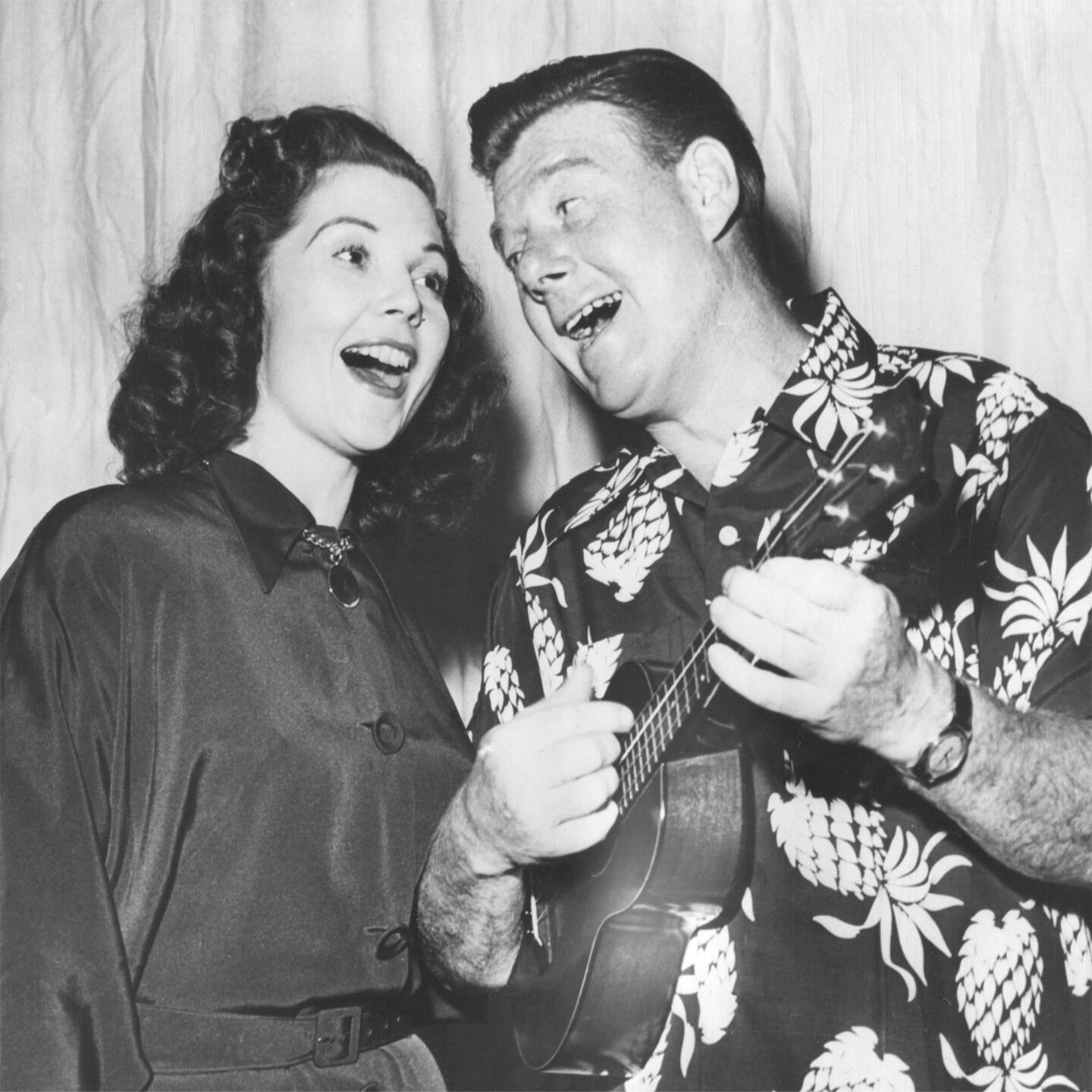 When, and why, did Martin make its very first ukuleles?
In the first decade of the 1900s, the ukulele was becoming very popular in Hawaii, but was still virtually unknown on most of the U.S. mainland. There were only a small handful of ukulele makers in Hawaii at the time, and these builders were individuals, not factories. Bergstrom Music was a music retailer in Honolulu, and we can only assume that they were looking for new ways to meet the demand for ukuleles. In the fall of 1907, Bergstrom Music's J. W. Bergstrom visited Chicago and the East Coast, and it is quite possible that he stopped in at the Martin factory, as Bergstrom had been selling Martin guitars since 1900. It may be that he left a Hawaiian ukulele with Martin or had one sent from Hawaii and requested Martin make an attempt at ukulele building. In Martin's sales book, there is an entry dated December 6, 1907: "6 Hawaiian Ukuleles made to sample as trial lot to calculate price 6.50." Bergstrom didn't order Martin ukuleles again until 1917, so it is likely that Martin's $6.50 asking price and the associated shipping costs to Hawaii were simply not competitive enough for Bergstrom to have any more Martin ukuleles made.
So, how long was it before Martin gave ukuleles another try, and what went differently that time?
Martin got back into ukulele manufacturing beginning in 1915. Hawaiian music was quickly growing in popularity, and demand had begun growing strong on the mainland for ukuleles. Martin's New York City retailers requested Martin make them ukuleles. Martin's largest NYC-based account was Chas. H. Ditson & Company. Ditson had been selling Hawaiian-made ukuleles since at least 1910, and with growing demand saw a need for a source that was closer to home. Martin made its first listed ukulele sale in October of 1915. In late 1915 and 1916, Martin made many adjustments to their ukulele models. By 1917, the construction style was quite similar to the ukuleles Martin would make for the next 75 years, and are now making again.
The title of your book refers to the Martin ukulele as "The Little Instrument That Helped Create a Guitar Giant." Isn't that a little over the top? Wasn't Martin a big name guitar maker for decades before they first made ukuleles?
Martin was unquestionably a highly respected guitar maker for over 80 years before ukuleles became part of their standard production. However, they were not a "giant" in the guitar business with respect to the actual number of instruments they were making. Martin was making only a couple of hundred guitars per year at the time they began ukulele production. A number of other manufacturers, including Chicago's Lyon & Healy and Regal, were making thousands of guitars annually. Although Martin's guitar sales started to pick up around the same time as they got into ukulele production (both were bolstered by the Hawaiian music craze), it was the very strong ukulele demand that was the primary reason for the factory expansions of the late teens and mid-1920s. When ukulele sales started to dip in the late 1920s, Martin had the space and resources to increase its guitar production to meet the growing demand of the time. When other companies were going out of business during the Depression years of the 1930s, Martin was able to rely on the financial surplus created during the ukulele boom.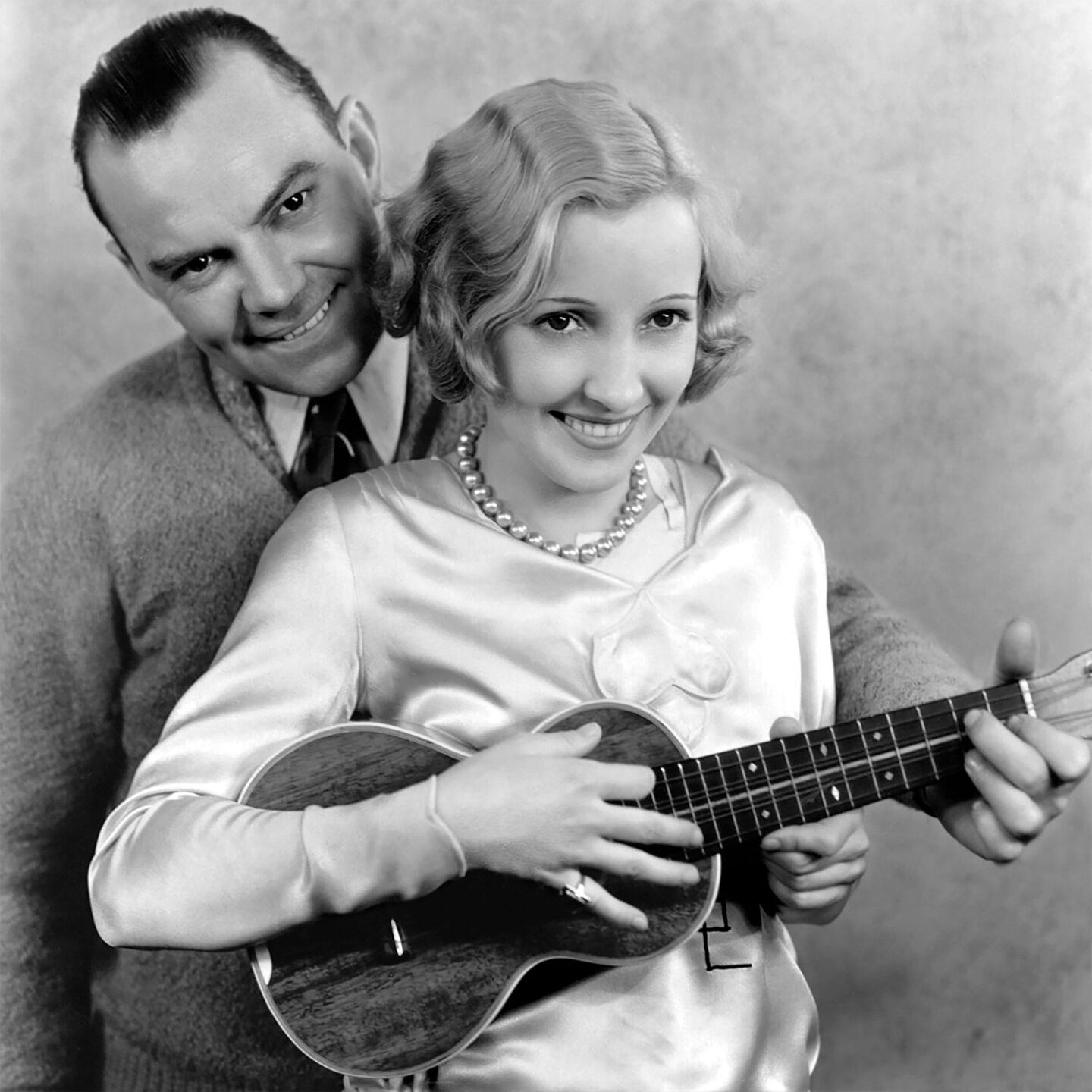 But even when Martin's ukulele production was at its peak, the guitar was always the heart of the Martin Co., wasn't it?
The guitar might still have been the "heart" of the company, but the ukulele was paying the bills. Ukulele sales climbed quickly as dealers from around the country began ordering them from Martin. Between 1916 and 1926, Martin built fewer than 17,000 guitars. In that same time period, they built nearly 57,000 ukuleles. In fact, in those first 11 years of ukulele production, Martin made twice as many ukuleles as they had produced guitars in their entire 93-year history.
How many different ukulele styles did Martin make?
A lot. In 1916, Martin began making soprano ukuleles in three styles (unsurprisingly designated as Styles 1, 2 and 3). Soprano is considered the "standard" ukulele size at approximately 21" long overall. They also made the same three styles in an eight-string "taropatch" model. The taropatch had a larger body and was styled after the Hawaiian taropatch, which had recently become popular in Hawaii. The larger taropatch model could also be ordered with just four strings. Also in 1916, they began making all of their soprano and taropatch models in a special mini-dreadnought shape for Chas. H. Ditson & Co. of New York City. Martin initially chose to make their ukuleles almost entirely out of mahogany, including the tops, but by 1919, all of the standard models were also made available in Hawaiian koa wood. In 1922, two more sopranos were added to the catalog, a low-end Style 0 and the top-of-the-line abalone-inlaid all koa Style 5K. In 1925, Martin first cataloged the larger concert size (23" overall) ukulele, but only listed it in one model, the Style 1C. In 1928, an even larger Style 1T tenor ukulele (about 26" overall) was added, and in 1960, the largest ukulele in the line was added, the Style B51 baritone ukulele (about 30" overall length). Over the last 10 years, Martin has reintroduced ukuleles in soprano, concert, and tenor sizes.
When were the peak years of Martin's ukulele production?
1925 and 1926. In the late teens, the Hawaiian music craze that swept across the country initiated the demand for ukuleles. By the mid-1920s, the ukulele had become an instrument that was being used to play all sorts of popular music, and it seemed everyone had to have one. In 1925, over 14,000 ukulele orders came in, and Martin quite simply could not keep up with the demand. For perhaps the first time in their history, they had to turn away all new customers because they had fallen so far behind. During that year, the second story of the new wing at the North Street factory was completed, and production was increased. More than 10,000 ukuleles were ordered the following year. By the end of 1926, Martin caught up with the back orders, just as demand for ukuleles began a long, slow decline.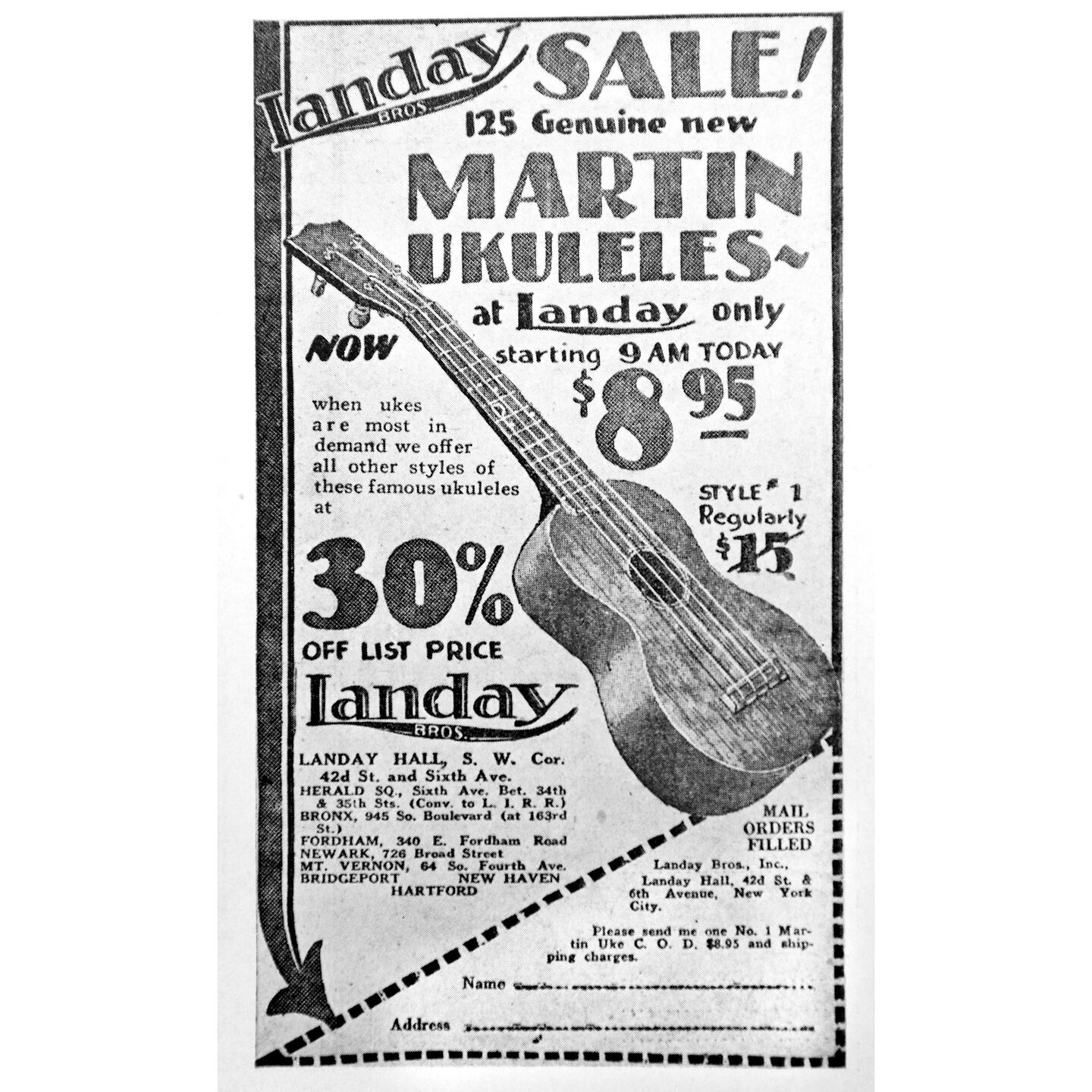 So, did Martin stop making ukuleles after this decline?
No. During the 1930s as guitar sales grew, Martin continued to make many styles of ukuleles. Some models, like the taropatch, had fallen out of popularity and were dropped. Most others continued to be made, but for most of the 1930s, fewer than 1,000 ukuleles were produced each year. Interest in the ukulele started to grow again in the years of World War II, with Martin selling a couple of thousand ukuleles a year. With koa wood in short supply, Martin began to phase out koa models, including their top-of-the line Style 5K. During the early war years, Martin offered the Style 5 instrument in beautiful curly mahogany, but 1942 was the last year they were made. By the late 1940s, the ukulele line had been simplified to just six models, all in mahogany: four soprano models, as well as the concert and tenor ukuleles. When Arthur Godfrey took to the radio and television with his ukulele in the late 1940s and early 1950s, ukulele sales climbed again across the country and at Martin. Over 5,000 ukuleles were ordered every year from 1949 to 1952, and they continued to sell about 3,000 per year until the mid-1960s.
Martin eventually stopped ukulele production completely. Why?
Well, there were a number of factors. In the 1960s, Martin's guitar sales were surging, and the ukulele was losing popularity. Tiny Tim, despite his unpredictable popularity, most likely did not inspire many to play the ukulele. It seems that it got to the point where making ukuleles, even in small numbers, was getting in the way of Martin's guitar production. Ukulele prices were raised repeatedly, and by the late 1970s, even the basic Style 0 was listed for over $500. The price increases caused even fewer ukuleles to be sold, and in 1977, ukuleles were made available on special order only. In the 1980s and early 1990s, it was much less expensive (and likely much faster) to locate and purchase a used Martin ukulele than to order a new one. With very few ukuleles being ordered, Martin eventually decided to stop ukulele production completely. Ironically, production ceased around 1995, just as a new wave of interest in the instrument was beginning to develop across the country.
So, how long was Martin out of the ukulele business?
Not long. Martin began manufacturing Backpacker guitars in their Navojoa, Mexico, factory in 1992. In 1997, just a couple of years after ending ukulele production in Nazareth, they introduced the Mexican-made Backpacker ukulele. Martin sold a few hundred of these each year in the late 1990s and early 2000s. In 2002 , they added a standard soprano ukulele model, the SO, also made in their Mexican facility. In 2006, Martin again began building ukuleles in Nazareth. They first reintroduced the Style 5K ukulele, a model that had not been made since the late 1930s. Over the last 10 years, Martin has reintroduced new versions of many of their vintage ukulele models, including Style 3 sopranos and Style 1 and 2 ukuleles in concert and tenor sizes.
Who are some of the players who played Martin ukuleles?
Cliff Edwards, known as Ukulele Ike, always seems to be playing a Martin in every vintage photo of him. Roy Smeck was quite fond of Martin guitars and played their ukuleles exclusively until he signed a promotional deal with Harmony. May Singhi Breen, the Ukulele Lady, was extremely fond of her Martin ukuleles. She had a number of custom models made for her by Martin. Jimmie Rodgers, considered by many to be the Father of Country Music, played a Martin ukulele when he wasn't playing guitar. He even wrote to Martin before his first recordings were released, looking to buy ukuleles "for Fair Concessions" and asked for the price on "three or four hundred" ukuleles! Along with Hawaiian-made Kamaka ukuleles, Martin ukuleles have always been very popular with Hawaiian musicians. Jesse Kalima, Eddie Kamae, Alfred Apaka, Herb Ohta (aka Ohta-San), and Israel Kamakawiwo'ole are just a few of the top Hawaiian musicians who were fond of Martin ukuleles.
Learn more about Martin's entire ukulele series here.