Tips & Tutorials | July 21, 2021
Understanding Ukulele Body Sizes
A Beginners Guide to Uke Sizes
by Kristi Bronico
While Martin may be widely known for making world-class acoustic guitars, we've also been making ukuleles for over a century, which we are proud to say makes us the oldest surviving ukulele manufacturer. But it's not just bragging rights we're after. We used all of that time and experience to perfect our ukuleles so we can offer a wide selection of great looking and better sounding ukes that you could play on stage, in the studio, or just for fun. If you're looking to pick up this uniquely upbeat and charismatic instrument, you may need some guidance on where to start. So, let's take a look at the various body sizes and how they differ so you can begin your search.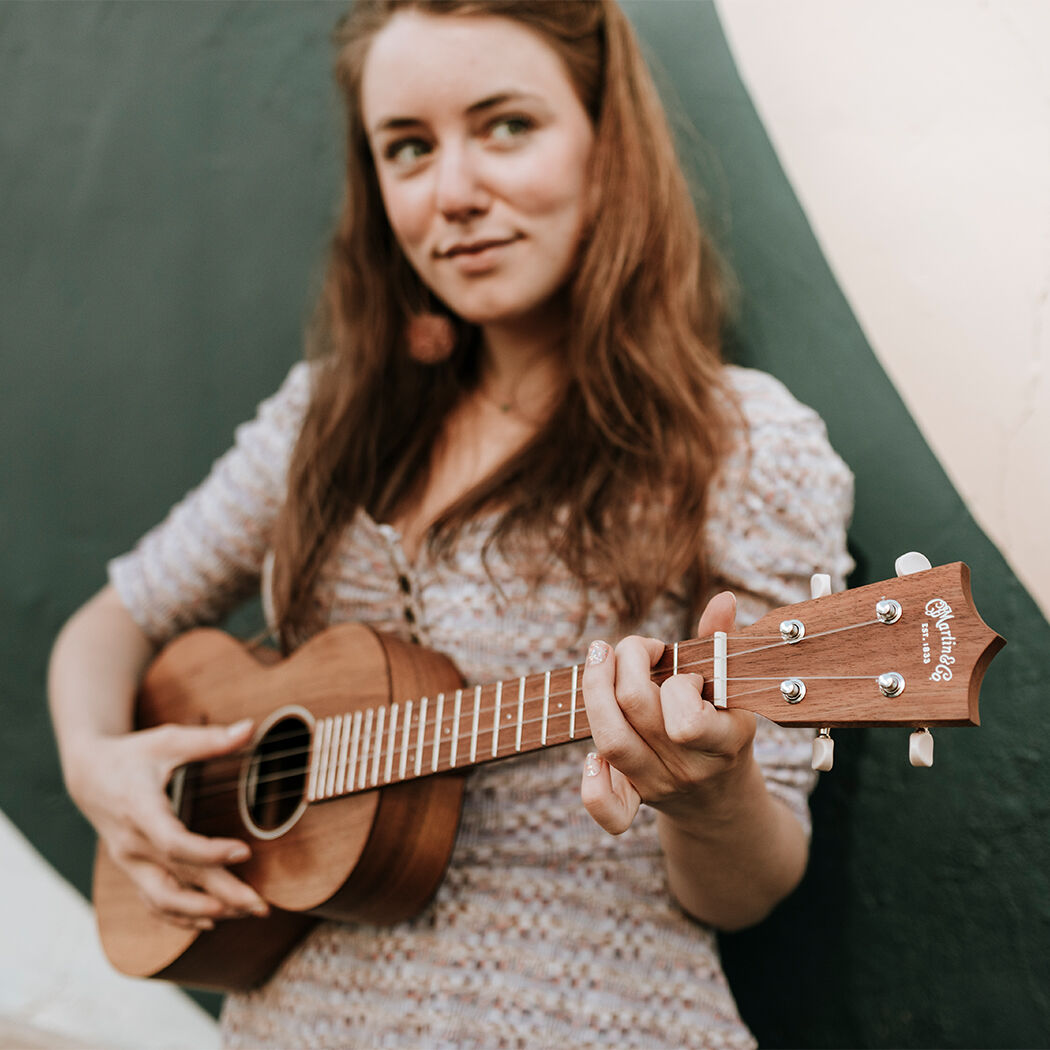 What are the ukulele body size options?
There are four ukulele body sizes to choose from:
Soprano
Concert
Tenor
Baritone
Martin currently makes the first three sizes, which are the most popular.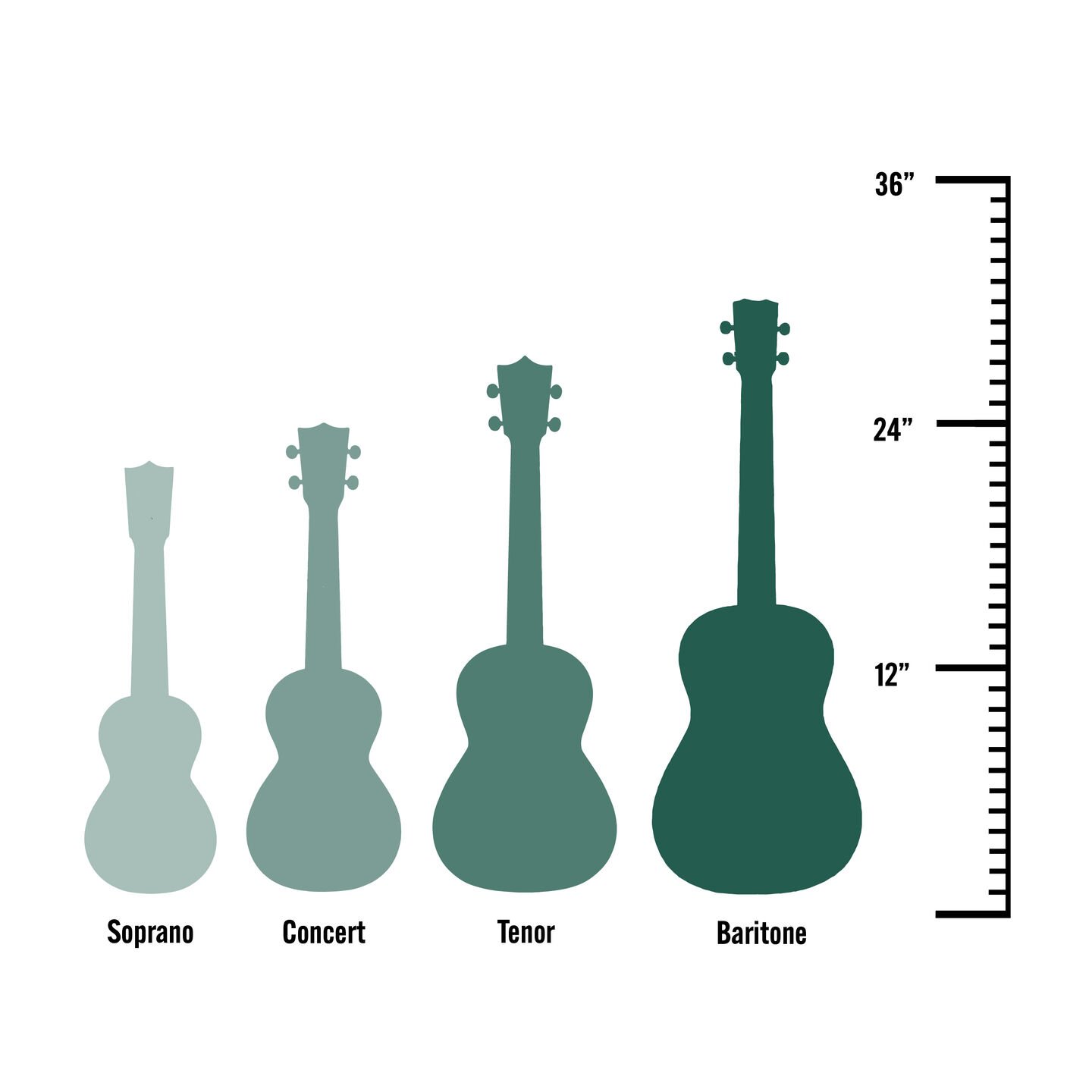 How do they differ in sound?
Well, as you go up in size from Soprano to Baritone, ukuleles will increasingly sound louder and warmer (with more bass) and they will generally resonate better. But keep in mind that the materials used, like the wood type, and the quality of construction will also impact the sound. To learn about some of our most popular wood types and how they affect tone, check out page 54 of the Martin Journal Volume 9 here.


What about tuning?
The first three Uke sizes are all tuned to the same pitch: G-C-E-A. If you choose a Soprano, Concert or Tenor uke, you will then be able to play all three. How cool is that? Baritone Ukes are tuned to a lower pitch D-G-B-E - the same tuning as the four highest (thinnest) strings on a guitar.


What about comfort?
Concert and Tenor ukuleles have a longer scale length (the distance between the nut and the saddle) than a Soprano ukulele. A longer scale length means the frets (the metal bars on the fretboard) are farther apart so there's more space to place your fingers when forming notes and chords. For this reason, you may find a longer scale length (Concert or Tenor size) easier to play.
What ukuleles are available from Martin?
SOPRANO UKULELES
The first Martin soprano ukes were made in 1915. The smallest ukulele we make, the soprano, offers a bright, traditional tone and is the same size as the ones first made in Hawaii back in the 1880s. Shown below are the S1 Uke, the Konter Uke, and the 5K Uke.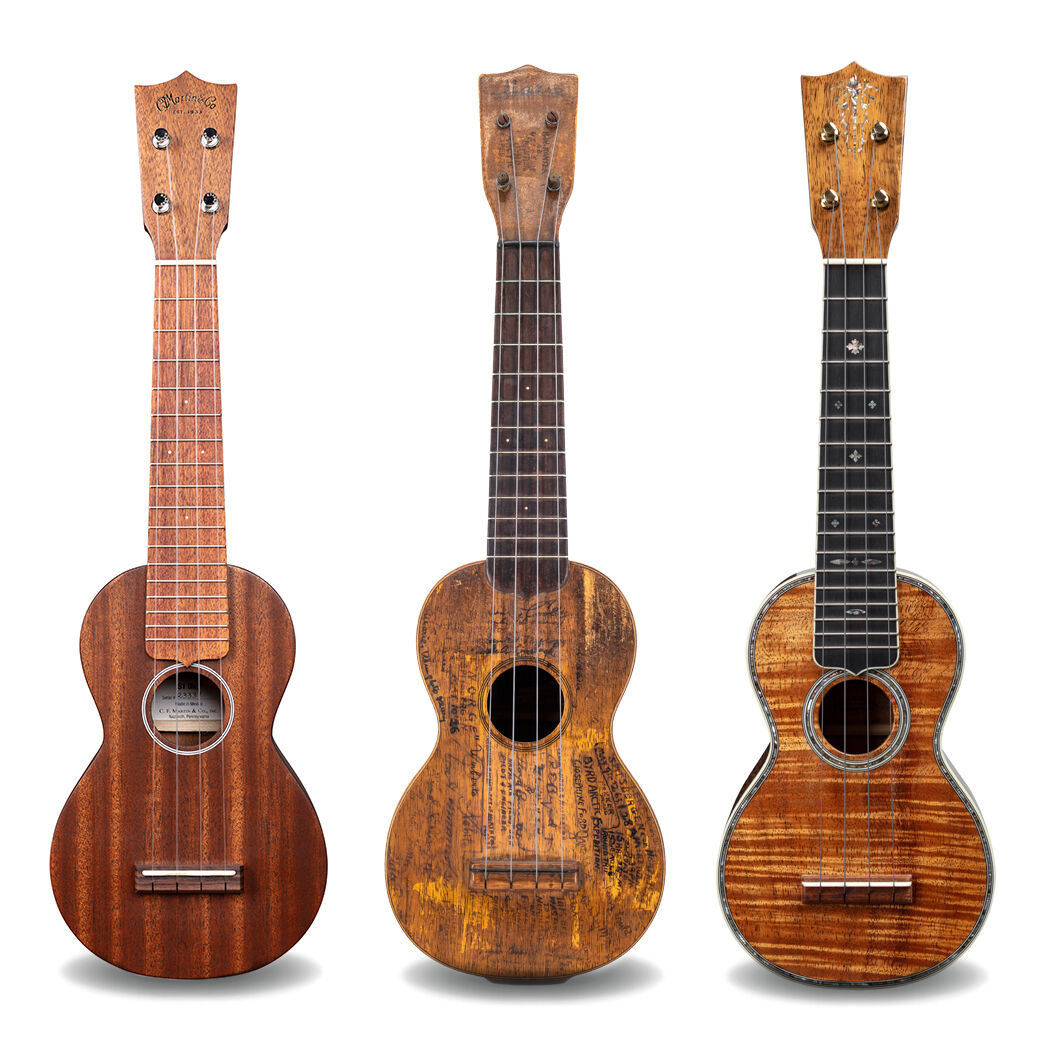 CONCERT UKULELES
Martin has been building concert-sized ukes of world-renowned quality since 1925. Smaller than the tenor, but larger than the soprano, the concert ukulele is a well-balanced, easy to play uke, perfect for anyone just starting out. Shown below are the Concert Uke FSC, the 0XK Concert Uke, the C1K Concert Uke and the 2K Concert Uke.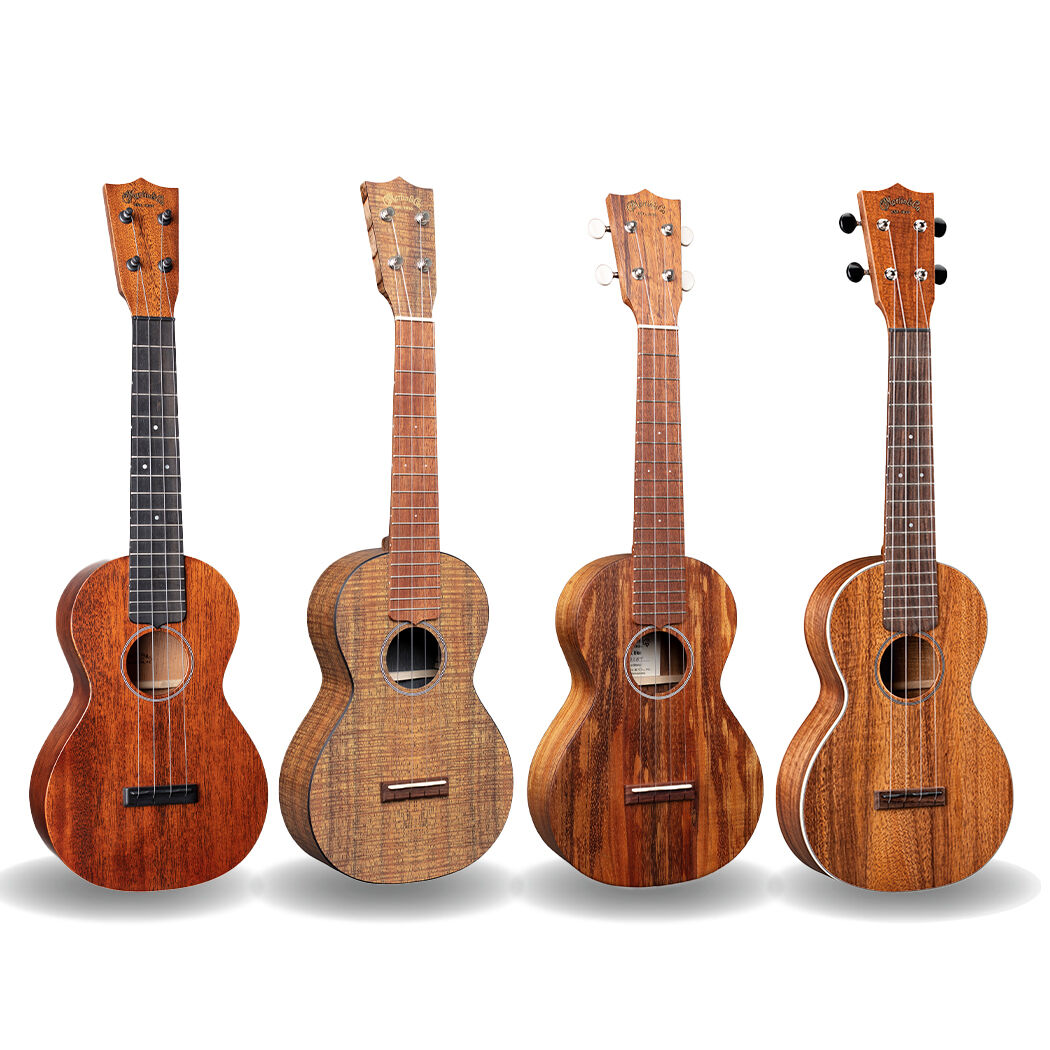 TENOR UKULELES
Martin's first tenor ukuleles rolled off the production line in 1929 and have been a favorite of countless players since. This is the largest ukulele we make, giving you extra volume and projection. Shown below are the T1 Uke StreetMaster®, the T1K Uke, and the 1T IZ Tenor Uke.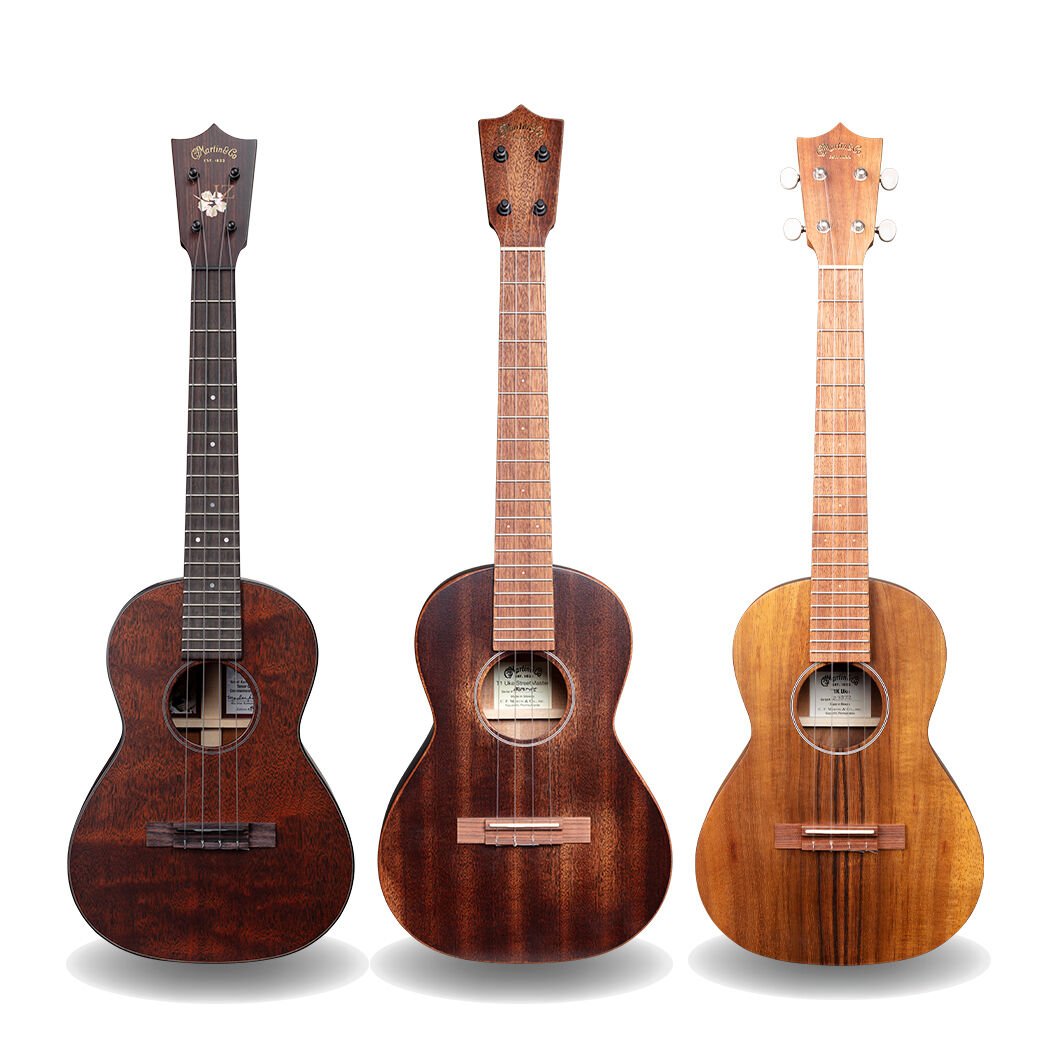 Shop Martin ukes here.
THE BOTTOM LINE
You can't go wrong no matter which size ukulele you choose. It's a fun instrument that is super portable and sure to lift the spirits of anyone within earshot. But, as always, the best instrument to choose is the one that feels and sounds best to you. I recommend trying out the different sizes at an authorized Martin Dealer to see which one sings to you. Find a Martin Dealer here.