From the Factory | April 12, 2023
Find Your Newest Obsession
Here at Martin, we're ready for Spring which brings the 2023 NAMM Show in Anaheim, California. But most of all, we're ready to share all our new and exciting guitar and ukulele models with you! No matter your skill level or playing style, we want to help you find the perfect instrument to spread joy to the world through your stories and music. What will you choose?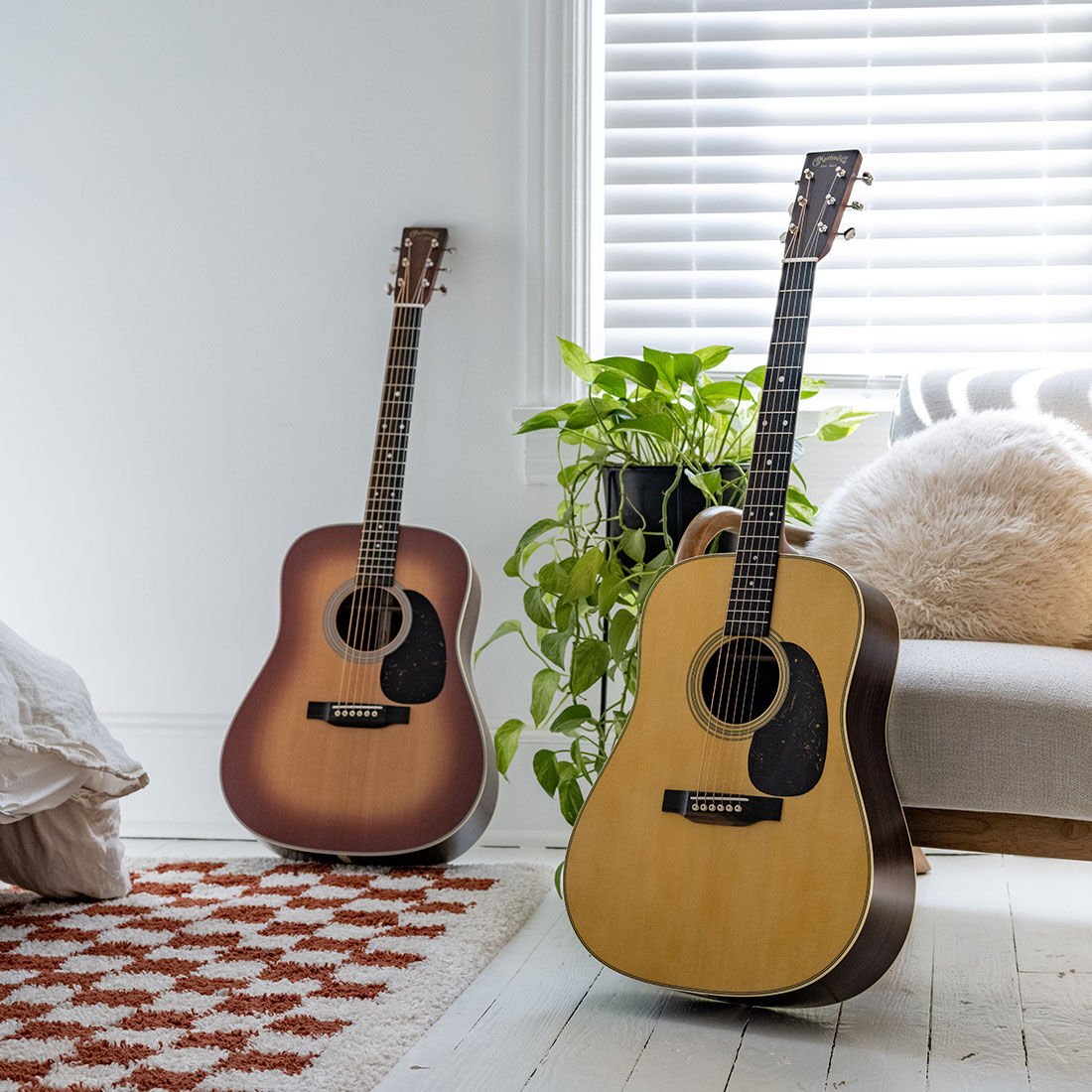 The Satin Standard Models
Martin's iconic Standard Series D-18 and D-28 were previously available only with a full gloss finish. New for 2023, Martin has added two new finish options to these longtime staples so future music legends like you can rock the one that suits your personal style and budget.
D-18 Satin
The Martin D-18 is famous for its understated looks and timeless tone. It combines the warmth of mahogany and authentic spruce with resonant scalloped bracing under the hood for a sound that's honest, authoritative, and clear. Vintage details like open-geared tuners and classic 18-style appointments pair with a modern, low-profile neck for an old-sounding soul in a brand-new body. Now Martin has made this legend available in a full satin finish with a choice of an aging toner top or an amberburst top. Learn more.
D-28 Satin
The Martin D-28 has been the quintessential workhorse of music legends like Hank Williams, The Beatles, Johnny Cash, Neil Young, Bob Dylan, and so many more. It's no surprise because the D-28 is crafted with East Indian rosewood, which is very resonant and offers deep bass and rich overtones. It is a well-balanced guitar for all playing styles. It also combines vintage appointments like open gear tuners, antique white accents, and a faux tortoise pickguard with a modern neck profile for a fast, comfortable playing experience. Previously available only in full gloss. You can now opt for a full satin-finished body (top, back, and sides) with your choice of an aging-toner top or an amberburst top. Learn more.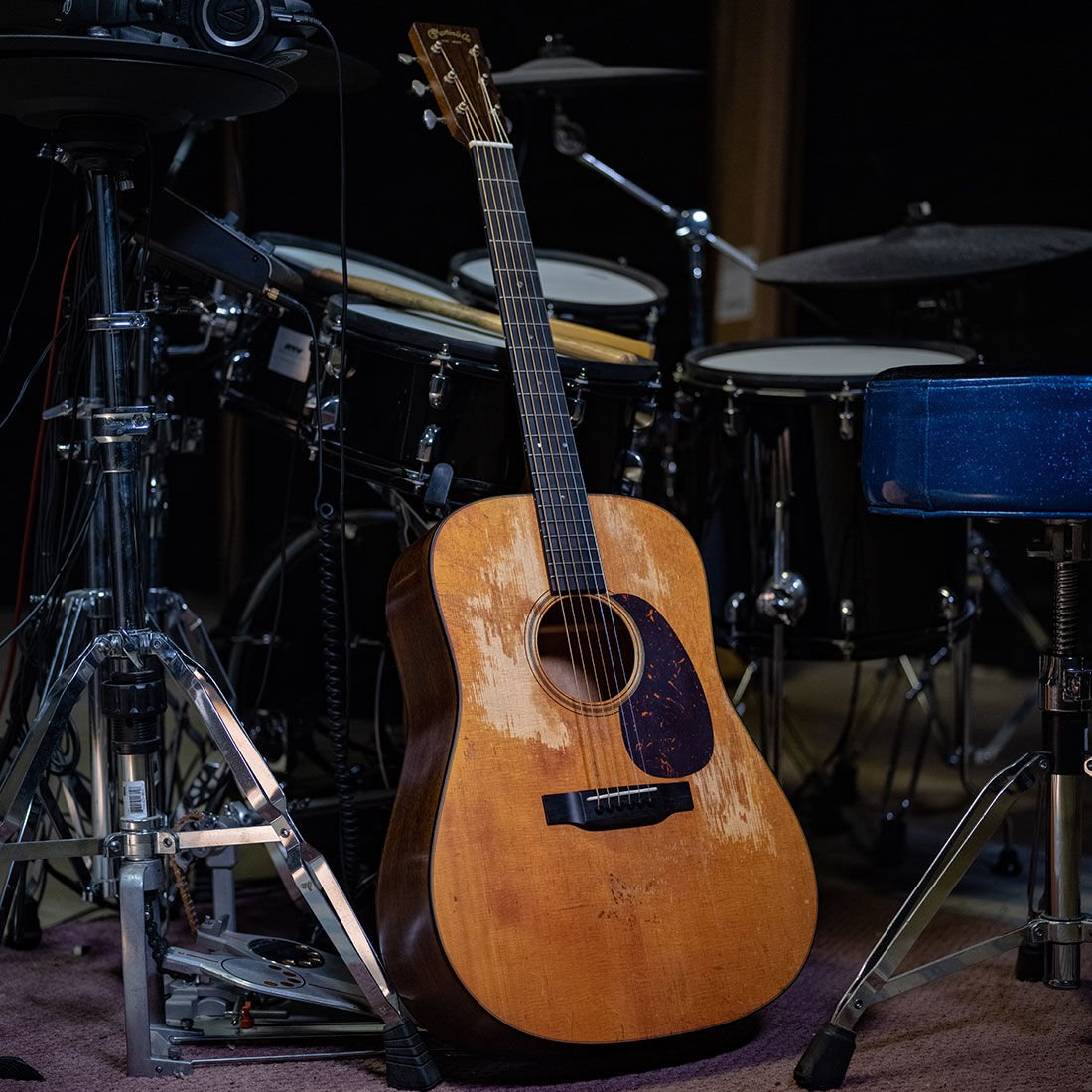 The StreetLegend™ Models
Martin's new StreetLegend ™ models include visual wear that was inspired by historic models found in the Martin Museum. This wear gives your brand-new guitar a well-loved look that shows your music has an old soul, like many of the fine instruments we've curated over the years.
D-18 StreetLegend™
The D-18 StreetLegend is crafted with satin-finished mahogany back and sides, so you'll still enjoy plenty of volume and pick up some bright trebles and punchy midrange tones. The scalloped bracing on this model contributes volume and a fuller sound than non-scalloped bracing. It also includes open-gear aged tuners and a satin-aged pickguard to complete the aesthetic. Learn more.
D-28 StreetLegend™
The D-28 StreetLegend is crafted with satin-finished East Indian rosewood back and sides, which are very resonant and offer deep bass and rich overtones. It is well-balanced for all playing styles. It also includes open-gear aged tuners and a satin-aged pickguard. Learn more.
The Aged Authentic Models
1937 was an excellent year for guitars, with a perfect storm of craftsmanship, innovation, and materials. These Authentic Series replications of the 1937 D-18 and D-28 stay true to the originals with hide glue construction and historically accurate detailing. Now Martin has reintroduced a more accurate Dreadnought body profile based on dreadnought shapes from the early Golden Era of Martin's history. They also include Martin's VINTAGE TONE SYSTEM® (VTS), which ages the wood to replicate the sound of a vintage Martin. Martin's craftspeople can recreate the pleasing visual aesthetics of a vintage guitar and reproduce the particular tones previously reserved only for vintage instruments. The result is a tactile, visual, and auditory experience that will transport you all the way back to the 1930s. And we know you're going to like it there.
D-18 Authentic 1937 Aged
The D-18 features genuine mahogany back and sides and an Adirondack spruce top. Learn more.
D-28 Authentic 1937 Aged
The D-28 features Guatemalan rosewood back and sides and an Adirondack spruce top. Learn more.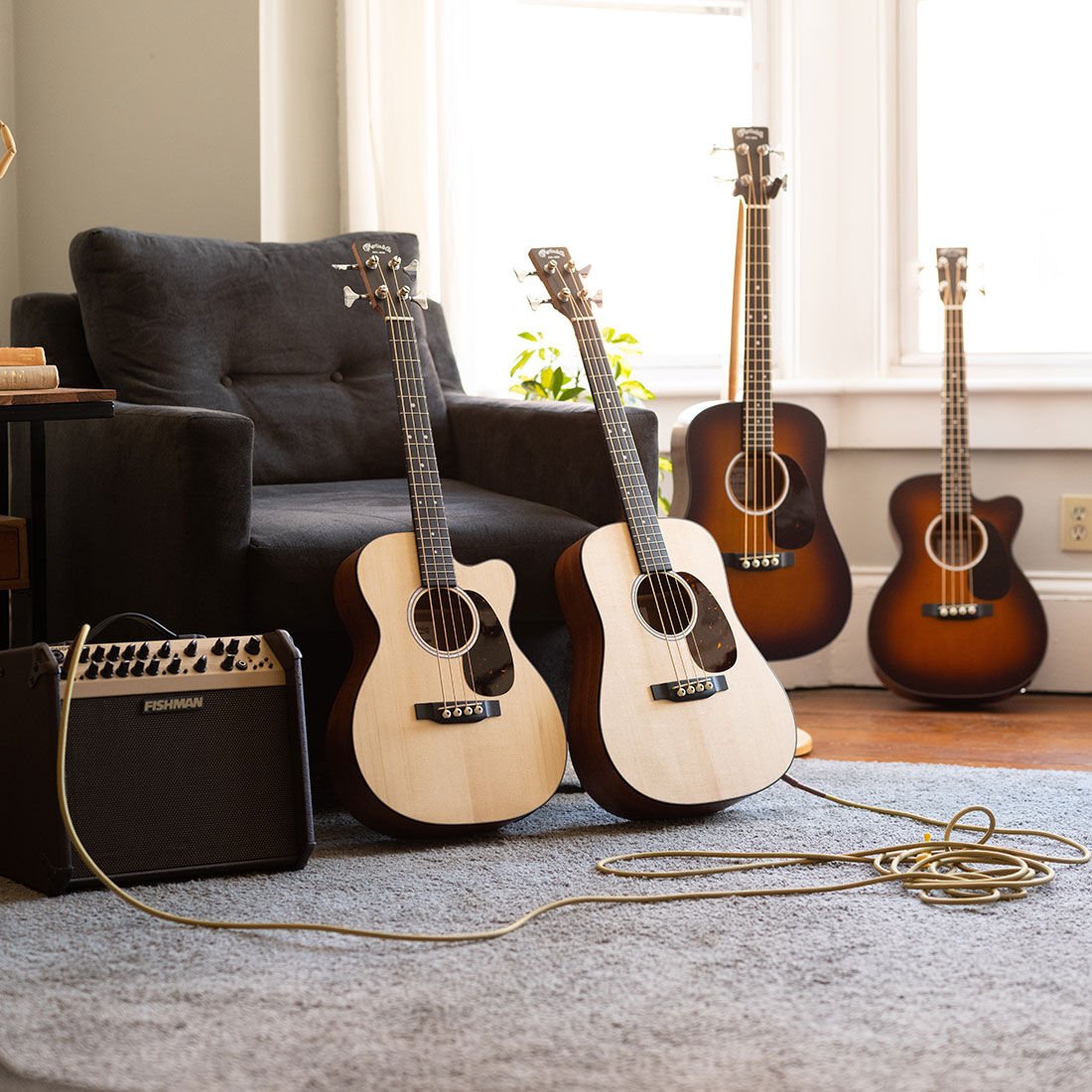 The Junior Bass and StreetMaster® Models
Calling all bass players! Martin is proud to introduce four Junior Series bass models just for you. Available in Dreadnought and Auditorium styles that are slightly scaled down for portability and comfort. Whether you are playing unplugged or using the built-in Fishman® electronics, these babies will deliver incredible thumping Martin bass tones.
DJr-10E & 000CJr-10E Bass
Martin Junior Series instruments are slightly smaller than our full-sized instruments, but you won't have to sacrifice tone or volume, and you'll gain plenty of comfort and portability. A Martin Junior acoustic-electric bass is ideal if you love to write and practice on an unplugged bass but also need the option to plug it in to record or play live with your band. It includes a spruce top and sapele back and sides. It also includes a fast, comfortable neck so you can keep the rhythm section tight. The Junior Bass models are strung with Martin M4750 Jr Bass Strings that were designed specifically for these instruments. The Martin Junior Bass is available in a Dreadnought or Auditorium style and with or without a burst finish. Learn more: DJr-10E Bass | 000CJr-10E Bass
M4750 Jr Bass Strings
Martin® Short Scale Acoustic Bass Strings are designed specifically for the Junior Series. Featuring phosphor bronze wrap on a nylon core for enhanced playability, full note projection, and tuning stability. Our impeccable standards for instrument tone are embedded in our string design and precision manufacturing process. We make our own strings to empower the artist in you to sound your best. Learn more.
000CJR-10E StreetMaster®
Enjoy the delicately balanced sound of an auditorium-style guitar in a smaller, more playable size with the 000CJR-10E StreetMaster. Its distinctive, distressed finish has a comfortably worn look that feels as if it's an old friend you've been playing for years. But it doesn't just look cool; this instrument is super-comfortable and playable, thanks to a thinner body and a high-performance neck taper. And when you climb on stage or step into the studio, Fishman® Sonitone electronics make it easy to plug in and play your heart out. Whether it's your first guitar or the one you take to gigs, the 000CJR-10E StreetMaster will take you to new musical places. Learn more.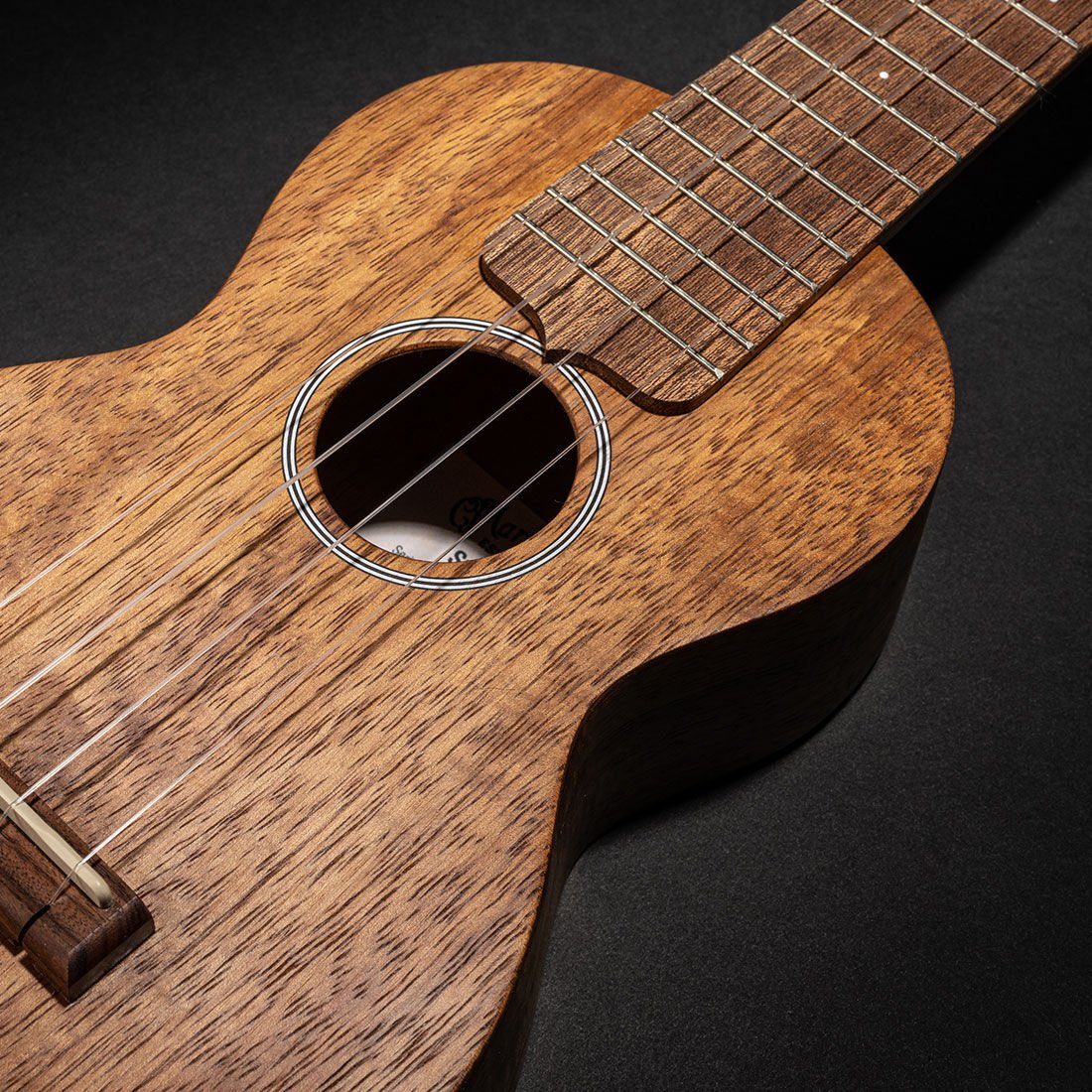 The Ukuleles
As the world's oldest surviving ukulele builder, we've been busy turning out high-quality ukes since the 1910s. We channel all that experience into giving you a great-looking and sounding uke you could play on stage, in a studio, or just for fun with friends on a beach. We have three new models for 2023!
0XK Uke Life is Good®
Martin has banded together with Life is Good®, the original positive lifestyle brand, to create this unique and vibrant ukulele. The soprano uke, made from durable Hawaiian koa HPL, features a colorful collage of the most iconic Life is Good graphics from nearly 30 years of spreading the power of optimism. It includes a sustainable softshell case, top-notch puns, and the good vibes needed to turn moments into memories. Learn more.
0 Soprano Uke
Martin has been making soprano ukuleles since 1915, and they were fashioned after the first ukuleles that originated in Hawaii back in the 1880s. The smallest-sized ukulele we make, the 0 Soprano Uke features a top, back, and sides that are crafted of sinker mahogany that was reclaimed from a river bottom in Belize. Sinker mahogany is denser and offers slightly more harmonic complexity than regular mahogany. The entire body is finished in high-quality satin lacquer. It comes with a softshell case. The 0 Soprano Uke is a beautiful example of why Martin is still the name in superior quality ukuleles. Learn more.

S1K Uke
This soprano-sized model features a top, back, and sides that are crafted of koa, a wood native to Hawaii, and a favorite of island players. The entire body includes a hand-rubbed, ultra-thin finish. Learn more.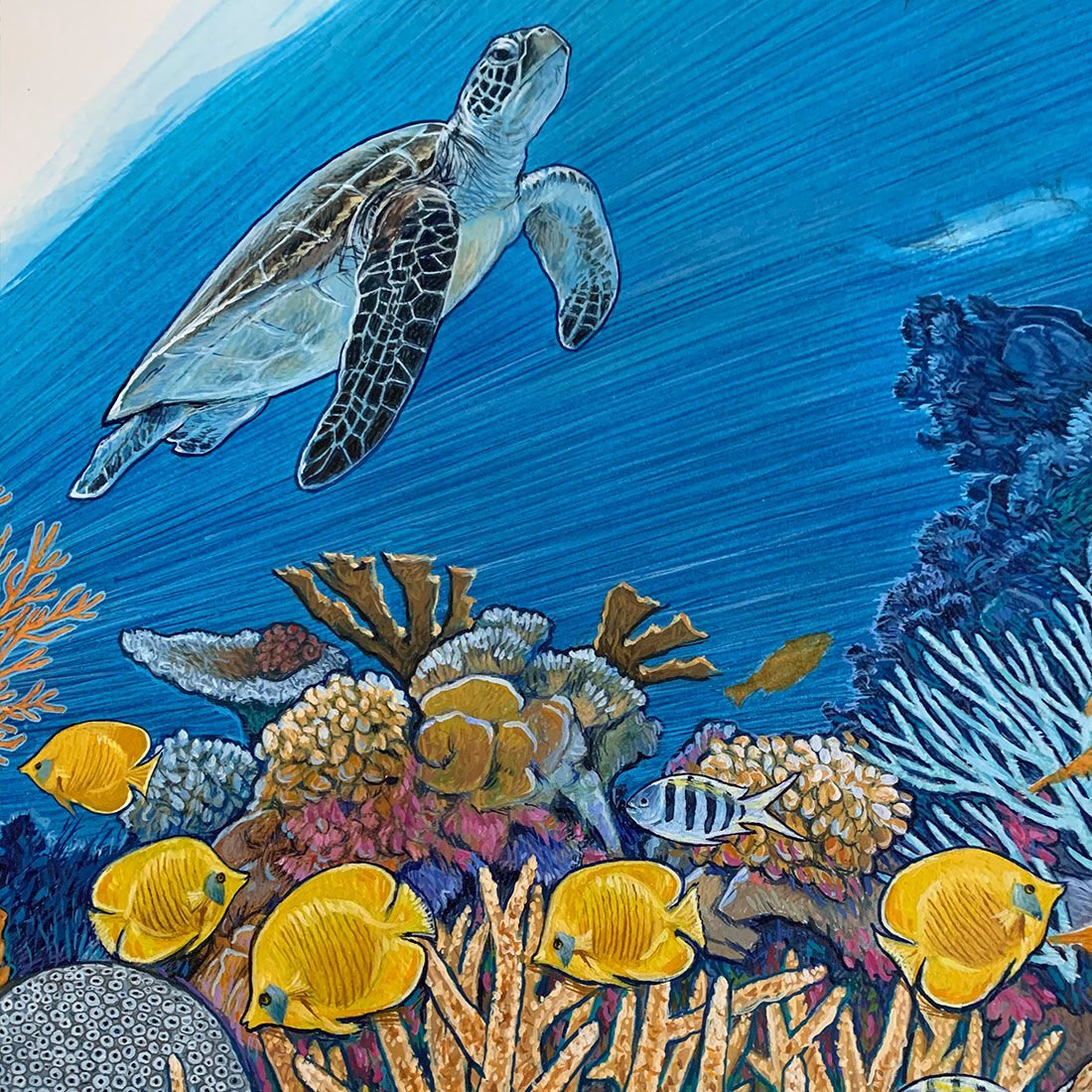 The Custom and Special Edition Models
CEO-10
The first model to be designed by Martin CEO Thomas Ripsam is extraordinarily exquisite - both visually and sonically. The 000-14 fret acoustic guitar is crafted with gorgeous Guatemalan rosewood back and sides, and the top and its bracing are made from FSC® Certified European spruce. The top also features a 1933 ambertone finish and a unique Guatemalan rosewood pickgard that is actually embedded into the soundboard and includes a custom vintage inlay. Other features include stunning European flamed maple binding throughout, a compensated bone saddle, bone bridge pins with abalone dots on an ebony bridge, and an ebony fingerboard with Foden-style abalone inlay. The look is completed with gold open-gear tuners and custom vintage headplate inlay on Guatemalan rosewood. The model also comes with a Vintage Deluxe neck, which is slightly asymmetrical for comfort and playability. Each model includes a label signed by Martin CEO Thomas Ripsam and numbered in sequence. This model is limited to 100 instruments, and they'll be sure to sell out fast. Learn more.
D-Robert Goetzl 6 (Rabbit)
This one-of-a-kind art guitar was inspired by the Chinese zodiac Year of the Rabbit and features original artwork by artist Robert Goetzl hand-painted on the soundboard. Now the sixth in a series, the D-Robert Goetzl models feature full-gloss finished East Indian rosewood back and sides with a Sitka spruce top and forward-shifted scalloped X-bracing for a full and balanced sound. They also include an ebony fingerboard and bridge and a stylized script logo on the headstock, and a paper label signed by the artist. Learn more.
Goetzl 0 Tenor Uke
This one-of-a-kind tenor ukulele was hand-painted by artist Robert Goetzl, featuring a Hawaiian floral theme on the top and back. Not only is the artwork stunning, but the ukulele is crafted with gorgeous sinker mahogany that was reclaimed from a river bottom in Belize. While still offering a warm, woody tone, sinker mahogany is denser than regular mahogany and offers more harmonic complexity. The ukulele includes a paper label signed by the artist. A playable collector's item indeed. Learn more.
OM Biosphere
It's not just a guitar. It's a call to action on climate change. A reminder to preserve our planet for future generations. To show our support for the preservation and replenishment of coral reefs, which are some of the most diverse and valuable ecosystems on earth, the top is adorned with stunning artwork by renowned artist Robert Goetzl depicting a colorful ocean scene. This model is 100% FSC® certified and only the second plastic-free guitar in production today, preceded by our 00L Earth guitar. Even the gig bag is sustainable: made from hemp—a Martin first. So, share your support for our oceans by playing one of the most environmentally friendly guitars on earth. Learn more.
D-28 Klaus Voormann
Klaus Voormann, best known for his Grammy Award-winning artwork on the cover of The Beatles' Revolver album, has now graced a Martin guitar with a new piece of original artwork that was created with his son Maxi. The artwork symbolizes "Peace through music," with white doves seemingly carrying away various musical instruments with long, flowing strings. Truly inspiring. The canvas for the artwork is a modern-day D-28 like the one played by Klaus's longtime friend Paul McCartney. The artwork is one-of-a-kind, never to be duplicated, and includes both Klaus's and Maxi's signatures. This stunning guitar is sure to make its new owner very proud! Learn more.
D-42 Bitcoin
Martin Guitar has been around since the early days of U.S. currency, and we are still here today. This model was created as a nod to the latest global currency, bitcoin. It includes a one-ounce, solid-gold token coin embedded in the headstock. It also includes unique inlays on the fingerboard and the headstock. It features Guatemalan rosewood back and sides, so you'll get plenty of bass and volume with this guitar; but it's paired with Englemann spruce, which is lighter than most top woods and may appeal to artists who like to play softly without losing the complexity in the tone. This guitar will be a fine addition to any playable guitar collector's arsenal. Learn more.