Tips & Tutorials
Apr 3, 2020
Understanding Guitar Body Sizes
Martin has been shaping the sound of acoustic music for nearly two centuries, and offers a wide array of guitar body shapes and sizes to create the perfect guitar for you.
But how does body size affect the tone and performance of a guitar? The following guide illustrates the progression of the Martin sizes from the small Concert (0) to the large, iconic Dreadnought. The guide also explains the effect each has on volume, tone and projection.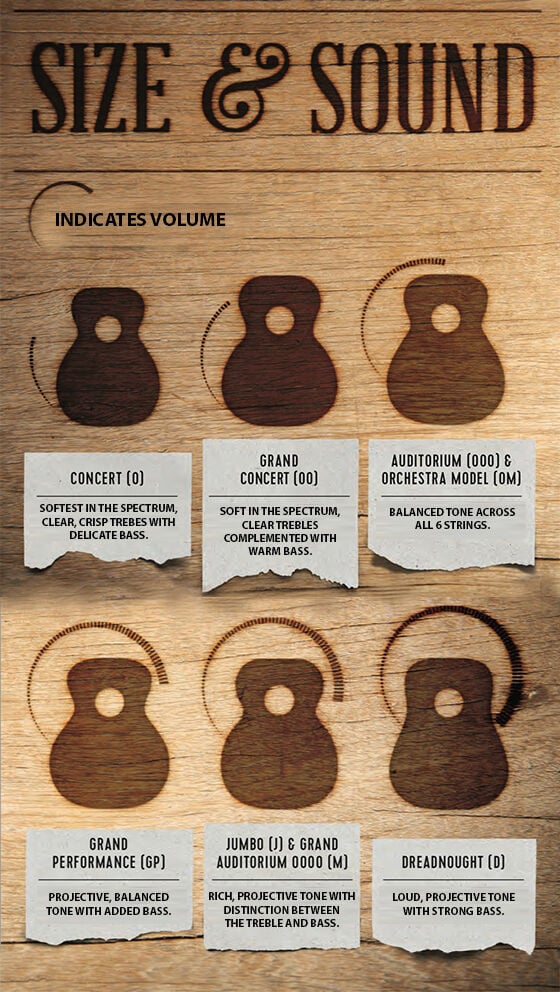 There are many factors that come into play when choosing your perfect guitar, and size is most definitely one of them. Early Martin designs were based on smaller body sizes but, as the demand for more volume and projection grew and musical styles and genres evolved, larger bodied guitars were introduced.
When it comes to choosing a guitar, there is no simple answer to the question, "What body size is right for me?" It's best to evaluate various body shapes for volume, tone, projection and comfort based on how you will use it. Are you a strummer or fingerpicker? What type of music will you play? If you'll be using your guitar to write songs, play a large venue, or accompany singing, be sure it's not too overwhelming or too quiet.
Browse guitars by body size here.
Other Guitar Tips: