Introducing Martin's 2.5 Millionth Guitar
Custom D-2.5 Millionth
Custom D-2.5 Millionth
C. F. Martin & Co. has been family owned and operated since the first guitar came off Christian Frederick Martin Sr.'s first workbench in 1833. As of 2022, there have been 2.5 million guitars produced. In honor of this milestone, the instrument design team offers one of its most stunning masterpieces – the Custom D-2.5 millionth – which will live in the Martin Museum in Nazareth, Pa. The entire theme of the guitar represents Christian Frederick Martin Sr.'s transition from Germany to America.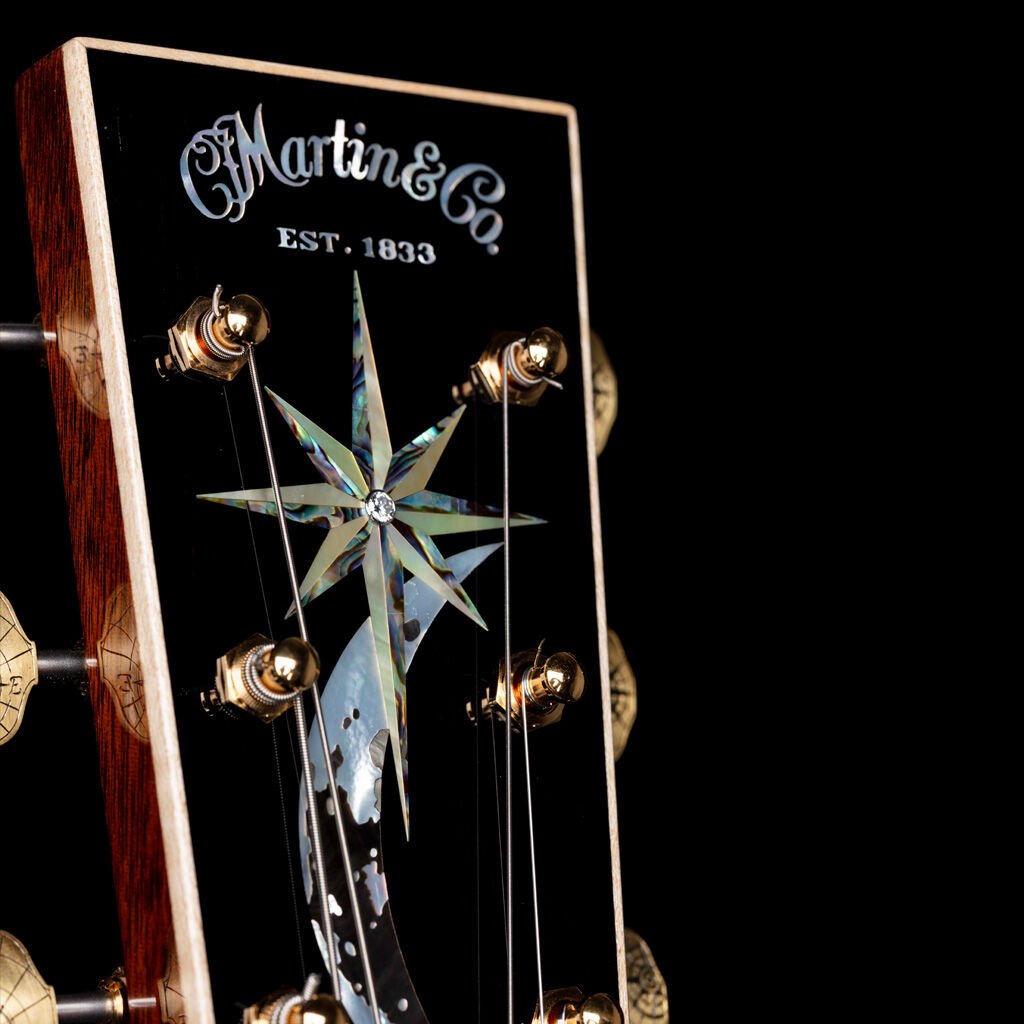 Two custom one-of-a-kind art guitars
Featuring original artwork by artist Robert Goetzl
D-Robert Goetzl 2: Eagle
Created to honor treasured species from the animal kingdom.
D-Robert Goetzl 5: White Tiger
Hand-painted Sitka spruce top & full-gloss Indian rosewood back and sides
Congratulations Gretchen Menn
C. F. Martin & Co. CEO, Thomas Ripsam, congratulates musician Gretchen Menn at NAMM.
In early April, Martin – in partnership with Guitar World – launched the No Limits Challenge competition, a celebration of our SC line of acoustic guitars. The competition featured eight YouTube-savvy guitarists facing off against one another, covering tunes one wouldn't normally associate with an acoustic using one of the SC models.
The winners of each match-up, in turn, were determined by reader vote – with GW editors contributing some helpful analysis. It's been a long, hard road, but, after nearly two months, we are proud to announce the victor, Gretchen Menn!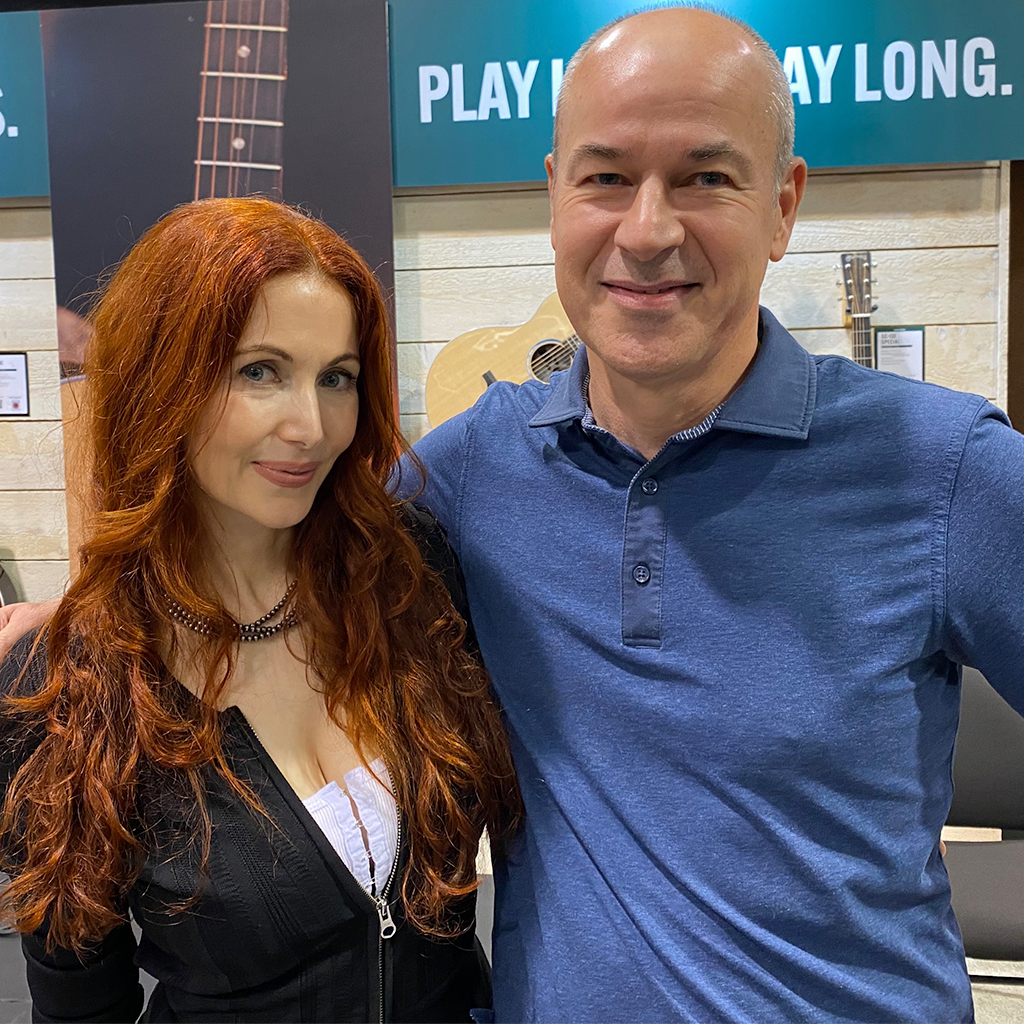 D-45 Harvey Leach Lotus Flower
This exquisite design by master inlay artist Harvey Leach features lotus flowers, heron, dragonflies, lily pads, and Koi fish artfully inlaid on the headstock, fingerboard, bridge, and back of the guitar.
Custom Shop Super D
This Super Dreadnought (the Super D) is now the largest body size in Martin's product line and is only available from our Custom Shop Experts. It is available with high flame koa or Guatemalan rosewood back and sides.
000Jr-10E Shawn Mendes
Martin has partnered with Grammy nominated multi-platinum, singer-songwriter Shawn Mendes to bring you the 000JR-10E Shawn Mendes Custom Artist Edition.
D-28 Rich Robinson
Martin is proud to bring you the Rich Robinson Custom Signature Edition D-28. This model is a guitar player's dream, and it is the first model that Martin has ever made as a visual and sonic representation of an artist's personal instrument.
CS-SC-22
The CS-SC-2022 is packed with custom features, and it's the first Nazareth-made instrument with the revolutionary SC body style.
D-42 Special
In conjunction with former Martin employee Dick Boak, Martin Guitar is proud to introduce a stunning high-end Dreadnought model: the D-42 Special.
Custom Major Kealakai
Major Kealakai was a guitar, trombone, and flute player trained by the Royal Hawaiian Band and was inducted into the Hawaiian Music Hall of Fame in 1996. In 1916, Martin made the Major a unique custom guitar.
DSS Hops & Barley
This limited-edition instrument is sure to become a collector's dream guitar.
D-17 Squadron
The artwork, with its unmistakable toothy grin, was executed by Robert F. Goetzl and inspired by the WWII squadron planes that were painted and made famous by the legendary American Volunteer Group, the Flying Tigers.
D-18 Authentic 1937
1937 was an excellent year for guitars with a perfect storm of craftsmanship, innovation, and materials. This Authentic Series replication of a 1937 D-18 stays true to the original with hide glue construction and historically accurate detailing.
D-28 Authentic 1937
The newly updated D-28 Authentic 1937 is built with Guatemalan rosewood back and sides, and includes some subtle spec refinements to make it even more faithful to the original.
GPC-13E Burst
This full-gloss Grand Performance cutaway model includes a burst-finished Sitka spruce top and stunning ziricote fine veneer back and sides.
000-16E StreetMaster®
A respectful nod to the working musician, our popular StreetMaster® finish was introduced on solid mahogany 15 series models in 2017. Now we have applied this beautifully distressed finish to East Indian rosewood and Adirondack spruce for the first time.
0 Tenor Uke
Martin has built the world's finest ukuleles since 1916, and we've been building tenor ukes since 1929 that have long been prized for their full-bodied voice and significant volume.
T1 Uke FSC
Built for serious players who want premium tone in an environmentally friendly instrument, this tenor-sized uke is made from 100% FSC® woods.
C1 Uke
Martin has been building concert-sized ukes of world-renowned quality since 1925. Smaller than the tenor but larger than the soprano, the concert ukulele is a well-balanced, easy-to-play uke, perfect for anyone just starting out.